Archive for April 18th, 2007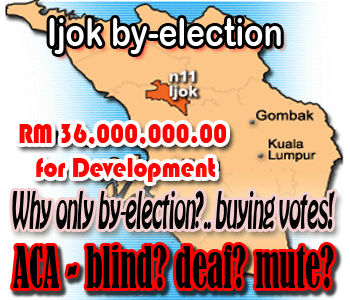 Selangor Mentri Besar Datuk Seri Mohd Khir Toyo would have been arrested by the Anti-Corruption Agency (ACA) and charged for corruption in connection with the Ijok by-election in Selangor if the ACA is an independent and professional body.
This is because even before the Ijok by-election nomination tomorrow, money politics to buy votes have started with the announcement by Khir Toyo of RM36 million for various development projects in the Ijok constituency.
Instead, the ACA had acted "blind, deaf and mute" to such money politics and corrupt practices to buy votes in the by-election.
This is what I said in Parliament this evening during the winding-up of the Prime Minister's Department in the committee stage debate of the 2007 Supplementary Estimates.
Minister in the Prime Minister's Department, Datuk Nazri Aziz disputed my charges as being unfair to the ACA and openly asked the ACA officers on duty in Parliament to take note of my strictures. I stood my ground. Read the rest of this entry »