Archive for April 22nd, 2007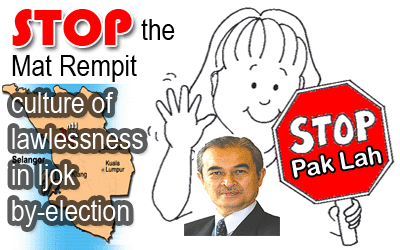 The Prime Minister, Datuk Seri Abdullah Ahmad Badawi, had condemned from Namibia the fracas that occurred during nomination day for the Ijok by-election as "a stupid thing", saying that "Such a thing should not have happened".
Abdullah said he was referring to both parties, meaning Barisan Nasional and Parti Keadilan Rakyat, when referring to the incident where BN and PKR supporters hurled stones, sticks and bottles at each other, forcing police to intervene.
I fully agree. To stamp out such unseemly incidents, leaders must set a good example to stop their members and election workers from getting out of control.
Leaders of both parties are blaming the supporters from the other camp of starting the fracas on nomination day.
However, there can be no doubt whatsoever as to who was responsible for the ugly incident at Batu 8, Ijok at 2.40 pm yesterday, where some 20 people, including some in Pemuda BN uniform, roughed up PKR candidate Khalid Ibrahim and two freelance photographers — one of whom is well-known blogger Jeff Ooi, injuring the other photographer. A police report had been lodged.
Abdullah is now back in the country. Is he prepared to condemn the ugly assault yesterday where Pemuda BN youths roughed up the PKR candidate and injured a free-lance photographer, discipline the culprits and issue clear instructions to end the Mat Rempit culture of lawlessness in the BN campaign in Ijok? Read the rest of this entry »