Archive for April 16th, 2007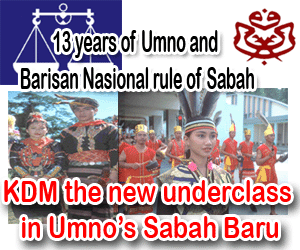 Sabah is in the throes of a political crisis although it is publicly
denied by the Umno and Barisan Nasional leadership, whether state or national.
There is for instance a lot of play-acting over the shock abrupt resignation of Tan Sri Chong Kah Kiat as Sabah Deputy Chief Minister and State Tourism Minister on Friday, with the Prime Minister Datuk Seri Abdullah Ahmad Badawi fully endorsing the Sabah Chief Minister, Datuk Musa Aman, in saying that Chong's resignation was "not really a loss" because it would not weaken the Barisan Nasional state government.
In other words, although Chong was Deputy Chief Minister and one of the key digits in the in the conspiracy and strategy to establish Umno hegemony in Sabah in the early nineties, he is now completely irrelevant and expendable.
It is no surprise therefore that Chong had expressed his "hurt" at the Prime Minister's dismissive comments about his resignation, telling Oriental Daily News today that the Prime Minister's comment had wounded his dignity and offended the people of Sabah and the Chinese.
Kah Kiat had maintained that he was quitting the Sabah Cabinet "as a matter of principle" — implying basic and fundamental differences with the Sabah Chief Minister.
The media have reported that ties have been strained between the chief minister and his deputy for some time over numerous issues like Musa's plans to develop Pulau Sipadan island off Sabah's east coast, with Malaysiakini citing as " the final straw" their differences over Chong's proposal to build a huge statue of the Goddess of Mercy in Kudat as a tourist attraction.
It is clear however to astute political observers that Chong's resignation is only the tip of the iceberg of what is politically wrong and even rotten in Sabah after Umno's entry in Sabah and 13 years of Umno and Barisan Nasional control of the Sabah State Government and that the issues at stake are even bigger than Chong's differences over "principle" with Musa.
What is the cause of the Sabah malaise and crisis? Umno has successfully made its foray into Sabah and established its unquestioned political hegemony in the state in less than a decade, but in the process, it has broken every pledge it had made on entry into Sabah. Read the rest of this entry »