Archive for April 14th, 2007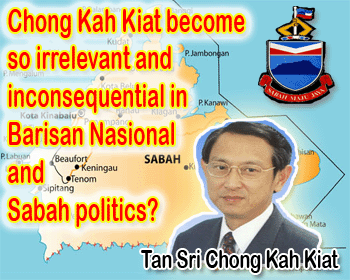 Tan Sri Chong Kah Kiat's resignation as Sabah Deputy Chief Minister is "no real loss" to Barisan Nasional. With or without Kah Kiat, it makes no difference to the BN in Sabah.
This is the clear message from the public reaction of the Prime Minister, Datuk Seri Abdullah Ahmad Badawi as reported by the Star today:
Chong's exit not really a loss, says Abdullah

The resignation of Sabah Deputy Chief Minister Tan Sri Chong Kah Kiat is "not really a loss" because it will not weaken the Barisan Nasional state government, said Datuk Seri Abdullah Ahmad Badawi.

The Prime Minister said Sabah Chief Minister Datuk Musa Aman had informed him of Chong's intention to step down, saying he wanted to rest.

He added that there was no other reason than that given by Musa.

"So as far as I am concerned, he will get his wish. Let him rest," he told reporters yesterday after launching the Conference to Improve the Delivery System of Government Services To Improve the Development Process As Well As Property Management.

Abdullah said Chong's resignation was not unexpected because the latter had expressed his desire to step down a number of times.

On whether the resignation was a loss, Abdullah said; "Not really a loss in the sense that I don't think the government of Sabah is going to be weakened with him not being around. But anyway we would like to say 'thank you'."
Has Kah Kiat become so irrelevant and inconsequential in Barisan Nasional and Sabah politics as to be shrugged off so ignominously by both the Prime Minister and the Sabah Chief Minister? Read the rest of this entry »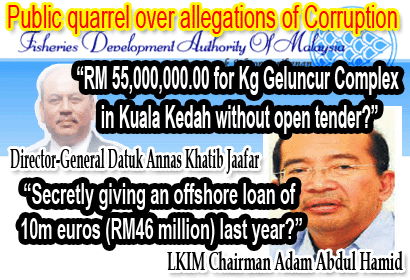 The Prime Minister Datuk Seri Abdullah Ahmad Badawi had pledged an "all-out war against corruption" when he succeeded Tun Dr. Mahthir Mohamad in October 2003, but his actions had never belied his word.
Ironically, Abdullah gave two illustrations of the vast gap between his rhetoric and action on the anti-corruption front when he spoke to the press at the launching of the Malaysian Anti-Corruption Academy (MACA) on Thursday.
Firstly, Abdullah lashed out at the Chairman and Director-General of the Malaysian Fisheries Development Authority (LKIM) for their public quarrel over allegations of corruption.
LKIM Chairman Adam Abdul Hamid had lodged a report with the Anti-Corruption Agency (ACA) that the agency's top management had spent RM55 million for its Kg Geluncur complex in Kuala Kedah without open tender.
Adam told New Straits Times (10.4.07) that the complex in Kg Geluncur, completed last year at a cost of RM29 million was unable to be used as the jetty was 10 metres from shore.
As a result, the same contractor was awarded a sand-dredging project to allow sea water to reach the jetty. The fee — RM100 per cubic metre of sand removed when PWD rate is RM30.
There was also a RM8 million land-levelling contract and a RM17.8 million contract to build a 1.8 km access road to the complex — all awarded without open tender.
The LKIM management, under its director-general Datuk Annas Khatib Jaafar, had on its part lodged an ACA report against Adam, who is also chairman of Majuikan Sdn Bhd, a subsidiary of LKIM, for secretly giving an offshore loan of 10 million euros (RM46 million) last year.
Abdullah should have suspended both the chairman and director-general of LKIM until outcome of investigations into the mutual allegations of corruption instead of asking them to sweep their differences "under the carpet", wanting the duo to "sit down and resolve the matter among themselves" rather than going public and making "the public lose confidence in the government". Read the rest of this entry »
CHUA: HAVE A HEART
by LKN
KUALA LUMPUR
Perhaps Lee Kuan Yew is right and we should indeed pay Ministers more if we are to expect a better dose of governance.
I read with bewilderment the MOH's appeal to private hospitals to provide affordable heart surgery to the poor failing which it will invoke the Private Healthcare Facilities and Services Act 1998 (PHFSA) to direct these hospitals to carry out "their social responsibility."
Chua appears to have been suddenly inspired with this brilliant idea following his visit to the Narayana Hrudayalaya Institute of Cardiac Sciences in Bangalore and speaking to its "world-renowned director" Dr Devi Shetty where 14 Malaysians have been treated.
He further reasoned that the MOH may "arrange for the poor to be treated in Bangalore at a minimum rate if presumably prices in Malaysian private hospitals are not "reasonable".
The Health Minister appears to demonstrate either inconceivable fiduciary irresponsibility or complete economic ignorance as to why cardiac costs and its concomitant services are high in the private sector.
He further seems oblivious as to why the government's own hospitals cannot be more efficient in treating these patients ignoring completely that costs in government hospitals are probably the same if not more save for the fact that the tax-payer instead actually pays the same bill for government patients. Read the rest of this entry »