Archive for April 25th, 2007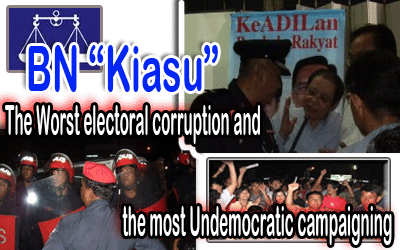 Last night, together with other DAP MPs including Dr. Tan Seng Giaw (Kepong), Chong Eng (Bukit Mertajam), Fong Po Kuan (Batu Gajah), M. Kulasegeran (Ipoh Barat), Fung Kui Lun (Bukit Bintang), Chow Kon Yeow (Tanjung) and Lim Hock Seng (Bagan) as well as Thomas Su Keong Siong (Perak DAP State Assemblyman for Pasir Pinji), I campaigned in Batang Berjuntai and Pekan Ijok for Tan Sri Khalid Ibrahim, Parti Keadilan Rakyat (PKR) candidate for the hotly-contested Ijok by-election for the Selangor State Assembly on Saturday, 28th April 2007.
I left Ijok last night with the predominant impression – that the Barisan Nasional (BN) is "kiasu" despite masterminding the worst electoral corruption and the most undemocratic campaigning in 50 years. What a shameful way to commemorate our 50th Merdeka anniversary in 2007!
It is because of this new emergent Barisan Nasional "kiasu" mindset that my speech at the first ceramah last night at Batang Berjuntai was sabotaged — by the Barisan Nasional making use of the Police.
A police party had earlier tried to intervene to stop the ceramah when PKR President Datin Seri Dr. Wan Azizah binti Wan Ismail was ending her speech, leading to arguments between PKR leaders and DAP MPs Fong Kui Lun and Lim Hock Seng on the one hand and the police on the other when the police party approached the make-shift rostrum.
After a short while when the commotion continued without resolution, I went up to the police officer leading the police team to ask what was the problem. When I was told that the ceramah was an illegal assembly, I was most surprised, as it was clearly a most unwarranted interference by the police in PKR by-election campaigning.
Unlike one occasion the previous night at Taman Pancaran, Bestari Selatan where the PKR ceramah featuring Datuk Seri Anwar Ibrahim was deemed by the police as being "too close" for "security comfort" to the BN one featuring Deputy Prime Minister Datuk Seri Najib Razak being separated by only 50 metres, and had to be cancelled, the PKR ceramah at Batang Berjuntai town last night posed no such problem as there was no other BN ceramah anywhere else in sight. Furthermore, the crowd was very peaceful, controlled and very good-natured. Read the rest of this entry »