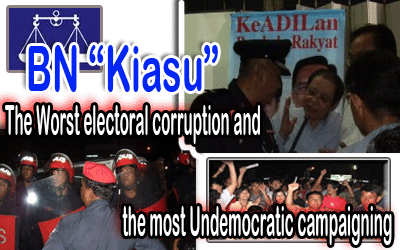 Last night, together with other DAP MPs including Dr. Tan Seng Giaw (Kepong), Chong Eng (Bukit Mertajam), Fong Po Kuan (Batu Gajah), M. Kulasegeran (Ipoh Barat), Fung Kui Lun (Bukit Bintang), Chow Kon Yeow (Tanjung) and Lim Hock Seng (Bagan) as well as Thomas Su Keong Siong (Perak DAP State Assemblyman for Pasir Pinji), I campaigned in Batang Berjuntai and Pekan Ijok for Tan Sri Khalid Ibrahim, Parti Keadilan Rakyat (PKR) candidate for the hotly-contested Ijok by-election for the Selangor State Assembly on Saturday, 28th April 2007.
I left Ijok last night with the predominant impression – that the Barisan Nasional (BN) is "kiasu" despite masterminding the worst electoral corruption and the most undemocratic campaigning in 50 years. What a shameful way to commemorate our 50th Merdeka anniversary in 2007!
It is because of this new emergent Barisan Nasional "kiasu" mindset that my speech at the first ceramah last night at Batang Berjuntai was sabotaged — by the Barisan Nasional making use of the Police.
A police party had earlier tried to intervene to stop the ceramah when PKR President Datin Seri Dr. Wan Azizah binti Wan Ismail was ending her speech, leading to arguments between PKR leaders and DAP MPs Fong Kui Lun and Lim Hock Seng on the one hand and the police on the other when the police party approached the make-shift rostrum.
After a short while when the commotion continued without resolution, I went up to the police officer leading the police team to ask what was the problem. When I was told that the ceramah was an illegal assembly, I was most surprised, as it was clearly a most unwarranted interference by the police in PKR by-election campaigning.
Unlike one occasion the previous night at Taman Pancaran, Bestari Selatan where the PKR ceramah featuring Datuk Seri Anwar Ibrahim was deemed by the police as being "too close" for "security comfort" to the BN one featuring Deputy Prime Minister Datuk Seri Najib Razak being separated by only 50 metres, and had to be cancelled, the PKR ceramah at Batang Berjuntai town last night posed no such problem as there was no other BN ceramah anywhere else in sight. Furthermore, the crowd was very peaceful, controlled and very good-natured.
I told the police officer that in my 40 years of election experience, the Police had never tried to stop a ceramah during election campaigning on the ground that it was an illegal assembly when the police had earlier been given notification, as the normal practice of requiring two-week notice to apply for police permit for holding a ceramah was suspended as it was no more practical in election campaigns which are invariably less than 10 days between nomination and polling dates.
I told the crowd that the Police was being unfair and one-sided, and there was thunderous support from the people at the ceramah. I asked the Police to be fair and to withdraw (undur) from the rostrum area and not to interrupt the ceramah.
I then saw the police party withdrawing and I was quite impressed that the police was amenable to reason demonstrating their dedication to the Rukunegara objective of maintaining a democratic way of life and to be guided by the Rukunegara principles of "Rule of Law" and "Good Behaviour and Morality".
But I was to be disillusioned in a matter of some 20 minutes later. When I started speaking after Po Kuan and the PKR candidate, Khalid had given their speeches, the police returned with three FRU truckloads of riot police.
A police party led by another police officer approached me to stop me from speaking, when I was just warming up, but he refused to reply when I asked him about a dozen times to identify himself, as to who he was and his police rank — causing me to berate him repeatedly for lacking in the most basic courtesies.
He was just interested in wanting to get hold of the mike, which led me to ask him as to why the police did not have their own mike and what had happened to the hundreds of millions of ringgit approved every year by MPs to purchase equipments for the police.
It was only after a dozen times of demand for him to identity himself that I was told that he was Kuala Selangor OCPD Ibrahim, evoking my parting shot as to why he was ashamed to identify himself earlier.
I told the crowd that the incident showed that BN was "kiasu" compelling the police to act so unfairly, one-sidedly and undemocratically to stop PKR ceramahs, which elicited repeated roars "BN kiasu" from the crowd!
The ceramah standoff ended when PKR Vice President Azmin Ali was allowed five minutes to disperse the crowd.
I had in the earlier incident told the police that by being so unfair blatantly and flagrantly, they are only stoking public outrage which will only result in more votes for the PKR candidate — the opposite result of what the BN wanted.
My second ceramah at Pekan Ijok went off without any police problem.
During question time in Parliament this morning, I posed the question why the BN is so "kiasu" in Ijok that the police are being forced to act so partially and unfairly as to harass PKR ceramahs while giving a blank-cheque to BN to do whatever they like in Ijok.
There was of course no answer from the Deputy Internal Security Minister, Datuk Johari Baharum who was replying to the question from the MP for Maran about the problem of VIPs like MPs being targeted by criminals and "whether there is any plan to take general protective measures in order to protect these group of people from being the target of criminals".
I raised a protest at this question and I expressed regret that BN MPs were only interested in the welfare of VIPs like themselves, while were quite indifferent to the plight of ordinary Malaysians who are increasingly victims of crime in the escalating crime waves.
As example, I cited the case of the latest crime victim, Lim Hoon Hwa, 21, clerk, who was robbed and brutally stabbed to death in her home in the crime capital of the nation, Johore Baru in Taman Skudai Baru on Sunday.
However, when I tried to raise the issue in Parliament on Monday night during committee stage debate of the Internal Security Ministry on the 2006 Supplementary Estimates, BN MPs including those from Johore were just unsympathetic, indifferent and did not want to listen — as they only wanted to go back on the ground that the Parliament meeting was too long already.