Archive for April 19th, 2007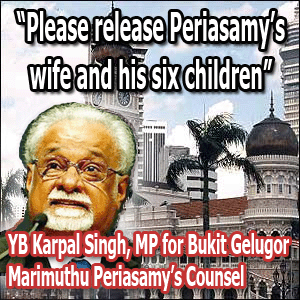 Rubber tapper Marimuthu Periasamy, 43, has today filed habeas corpus writ for the release of his wife Raimah Bibi a/p Noordin and six children, Yoogneswary 12, Paramila 11, Hariharan 8, Ravindran 5, Shamala 5 and Keberan 4 from detention by the Selangor Islamic Religious Department for the past 17 days.
Periasamy, who filed the action through DAP National Chairman Karpal Singh as counsel, is seeking to be reunited with his wife and six children who were forcibly separated from him on 2nd April 2007 on the ground that they were Muslims.
Periasamy has filed a supporting affidavit stating that he and his wife were at all material times of the Indian race and they practiced and professed the Hindu religion. They brought up their chileren in the Hindu religion and beliefs.
Their children were given Indian names and they had lived in peace without interruption even though they earn a modest living.
Things changed in the morning of 2nd April 2007 when seven officers acting on behalf of the Jabatan Agama Islam Selangor (JAIS) raided their residence in Kampung Baru Tambahan, Ulu Yang, Selangor, detaining his wife and six children and forcibly took them away from their house. Marimuthu was threatened with "khalwat" if he attempted to stop them. Read the rest of this entry »