Archive for April 4th, 2007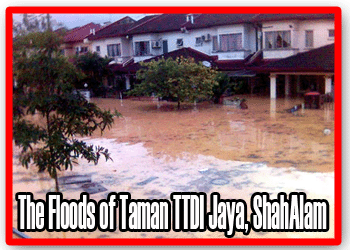 THE FLOODS OF TAMAN TTDI JAYA SHAH ALAM
by Z. IBRAHIM
For those who moved into the neighborhood of Taman TTDI Jaya in the "planned" city of Shah Alam 15 years ago, little did they realize that it would be a non-ending nightmare of recurrent flooding.
The trust they had in the developers and all those promises that the land had been adequately raised to sustain a 100-year rain forecast obviously in retrospect was nothing more then a "con" to entice innocent house buyers to part with their hard-earned money to buy these homes. Worse affected were the shop-owners who today have to face floods almost on a monthly basis. How is this possible?
Despite all the technical explanations by the developers, DID, MBSA and the Menteri Besar himself it appears plain to anyone with common sense that the area indeed is topographically the lowest point in the entire locality and water undoubtedly whether from the area itself or drainage upstream from KL would indeed overflow and stagnate at this Taman.
After the horrific floods of last year, the State government came up with an interim plan to raise the river bunds to prevent overflowing but the floods keep coming with even greater speed.
You see, despite knowing that this place is already flood prone, the area between TTDI Jaya, Bukit Jelutong and the TUDM air force base has been stripped bare to make way for industrial development.
The entire area does not possess proper drains and even a kid will tell you the massive run off during heavy rain will of course pool at this housing estate located beneath — Taman TTDI Jaya.
But this common sense appears to have slipped through the minds of authorities who allowed this massive land clearing without a thought to parents, the infirm, children, businesses and schools who occupy this housing estate. Read the rest of this entry »
The "babi" invective by an UMNO MP in Parliament yesterday is a most sad and shocking reflection that 50 years after Merdeka, there are Umno political leaders who are still very deeply-ingrained in communal thinking and prejudices, making them poor models of a Bangsa Malaysia.
I admit that I had lost my cool when I was badgered and heckled the whole afternoon yesterday when I had sought clarifications during the Ministerial winding-up of the debate on the Royal Address.
The badgering from Barisan Nasional MPs had started when I sought clarification from the Deputy Prime Minister and Defence Minister, Datuk Seri Najib Tun Razak on integrity issues concerning the award of contracts in the national service training programme, the mega-commission scandals in defence purchases such as US$100 million for Sukhoi jets from Russia and US$120 million for submarine from France and it continued when I had sought clarification from the Deputy Internal Security Minister, Datuk Johari Baharun, whether on the serious corruption allegations which had been made against the Deputy Minister in the "freedom for sale" scandal, the most basic failure in police reform when police still refused to accept police reports or the issue of abuse of detention-without-trial powers under the Emergency Ordinance.
When BN MPs from Umno, MCA and Gerakan continued to try to drown out my attempts to seek clarification from Johari, I lost my patience and told BN MPs who did not want to listen to the clarifications which were public interest issues to "mampus" and leave the House. Read the rest of this entry »
CROSS LISTING OF MALAYSIAN CORPORATIONS IN FOREIGN STOCK EXCHANGES
by Dr. Chen Man Hin
Perlis Palm Oil Berhad, a subsidiary of Perlis Plantation Berhad is in the process of being merged with Wilmar Corporation a Singapore listed corporation. The move seems to have created anxiety in the business community.
There are fears that a large corporation being absorbed by a foreign company may bode ill for the country as capital is being taken out, and is of bad omen.
Concern has also been expressed that corporate mogul, Tan Sri Robert Kuok is pulling his business conglomerate out of Malaysia. This may mean the beginning of an exodus of capital from the country. There is no basis for such speculation.
The fact is that cross listing of corporations is a common international practice adopted by world class companies, which for strategic reasons often choose to list their companies in the stock exchanges of different countries.
Examples are Hong Kong Shanghai Bank which is listed in Hong Kong, London and New York. So also with China Life a giant insurer in China, is listed on Hong Kong, New York and Shanghai, also Infosys a well known Indian IT corporation is listed both in India and New York. Read the rest of this entry »