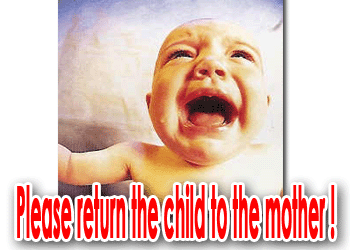 Siti Fatimah was born in 1978 to an Indian Muslim couple. She was brought up by her grandmother who is a practising Hindu. She sees herself as a Hindu and declared herself as one on 21 Mar 2001 through a statutory declaration. She changed her name to Revathi Masoosai.
She is married to Suresh a/l Veerappan, a Malaysian Indian Hindu on 10 March 2004, against her family's opposition. They could not register their marriage because of her religion.
She gave birth to a daughter on 19 December 2005 at the Malacca General Hospital. Two days later, just about when she was packing to go home, three men and a woman who introduced themselves as officials from Malacca Islamic Office came to ask her to hand over her daughter to them. She refused.
She was not able to register her daughter as a Hindu. In fact she had difficulty in getting her a birth certificate. She had to change her Muslim name to Hindu name in her identity card.
In January this year, Revathi was taken into custody and taken to Pusat Pemulihan Akidah di Ulu Yam, Selangor, for rehabilitation for 100 days. Her rehabilitation will be due by 18 April but her detention can be extended.
During her detention, Suresh and his mother took care of his daughter. On March 26, Suresh was told his daughter, now 15 months old, was taken away by a group of people which consisted of a policeman, a lawyer and Revathi's mother. He lodged a police report the same day, stating that he had no knowledge of the whereabouts of his daughter.
This sad story of first his wife and then his daughter taken away from Suresh was narrated by DAP Member of Parliament for Bukit Mertajam, Chong Eng, who brought the issue to the attention of Parliament during her speech on the Royal Speech debate last Thursday (29th March).
She appealed to the Prime Minister to instruct the authorities concerned to return the child to the mother. She said that religion is about humanity and separating mother and child, husband and wife is inhuman and inhumane, which must be against the values of Islam and the good family values that the Women, Family and Social Ministry wanted to promote in the "Family first" campaign.