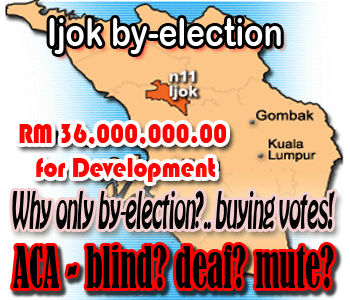 Selangor Mentri Besar Datuk Seri Mohd Khir Toyo would have been arrested by the Anti-Corruption Agency (ACA) and charged for corruption in connection with the Ijok by-election in Selangor if the ACA is an independent and professional body.
This is because even before the Ijok by-election nomination tomorrow, money politics to buy votes have started with the announcement by Khir Toyo of RM36 million for various development projects in the Ijok constituency.
Instead, the ACA had acted "blind, deaf and mute" to such money politics and corrupt practices to buy votes in the by-election.
This is what I said in Parliament this evening during the winding-up of the Prime Minister's Department in the committee stage debate of the 2007 Supplementary Estimates.
Minister in the Prime Minister's Department, Datuk Nazri Aziz disputed my charges as being unfair to the ACA and openly asked the ACA officers on duty in Parliament to take note of my strictures. I stood my ground.
Earlier in my speech, I had expressed shock that Nazri could be "very satisfied" with the corruption situation in the country when after three years of the Abdullah premiership, corruption had got worse, as claimed by former Prime Minister Tun Dr. Mahathir Mohamad as well as testified by international corruption surveys like Transparency International's annual Corruption Perception Index which saw the country's ranking falling from No. 37 in 2003 to No. 44 in 2006 and the latest Political and Economic Risks Consultancy (PERC) corruption survey in Asia.
In a written reply on Monday to the Barisan Nasional MP for Lubok Antu on what had been achieved by the government in eradicating corruption, Nazri had said: "Kerajaan amat berpuashati dengan usaha-usaha yang dilaksanakan untuk menghapuskan rasuah di negara ini."
In his reply, Nazri argued that he was not "mad" as to be "very satisfied" about the decline in the various corruption perception indices for Malaysia, stating that he was equally concerned. He said his "very satisfied" referred to the efforts made to eradicate corruption.
I challenged such perverse illogic, maintaining that when he said he was "very satisfied" with the efforts to fight corruption, it implied being "very satisfied" as well with their outcome — the shocking deterioration of the corruption situation on all fronts.
In my speech, I had reminded Parliament of Abdullah's promise during the 2004 general election to be modern-day Justice Bao to eradicate corruption and spoke in Mandarin the first two sentences of the Justice Bao TV series theme song. I rendered a rough translation in Bahasa Malaysia – "There is a Justice Bao in Kai Feng, Iron-Faced to differentiate between right and wrong"!
I asked where is Justice Bao in Malaysia after more than three years of Abdullah as PM – when in fact, there are also none of the lieutenants of Justice Bao to carry out his mission of justice and integrity!