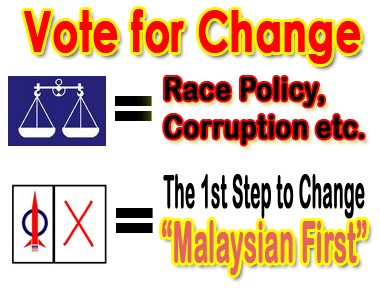 The People of Machap Must vote for a change
by Richard Teo
The Machap by-election will be an important milestone for the chinese community.It will determine, after 50 years of BN rule whether the chinese community will opt for a change or remain and continue to be marginalised by the present govt.
The choice for the people of Machap is a simple one.After 50 years where do we go from here? The present govt seem to have lost its direction and no longer have the capabilty to lead this multi-culture, multi-race and multi-religious nation where its people of different origin can live in peace and harmony.
Instead of fostering goodwill among its people the govt has implemented divisive racial policies that have polarised the different races. Its affirmative race based policy has benefited only one community and discriminated the rest.
Even its race based affirmative policy has been hijacked to benefit only a few elite UMNO members. After 50 years the Malay rural heartland of kelantan, Trengganu, Pahang, Perlis,Kedah and Johore still remain impoverished.
Corruption has creeped into every level of our daily lives. Corrupt politicians and civil servants are so prevalent that the system is powerless to act on them. Our political masters are reluctant to bring the culprits to justice because they are just as tainted with corruption.
Our Judicairy are presided by spineless judges guided by religious emotion and personal conviction rather than the rule of law as defined in our sacred Constituition.
So where do we go from here? The question should not only be directed at the Chinese but to all the races in Machap. If after 50 years our path taken is still littered with potholes, then its high time we make a change. A journey of a thousand miles must begin with a single step.To begin our journey, the people of Machap must take that first step to vote for the opposition. Failure is not an option because our very future may well depend on it.