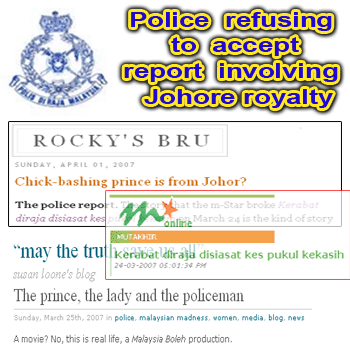 Yesterday, I handed to the Deputy Internal Security Minister, Datuk Johari Baharun and the Deputy Speaker Datuk Lim Si Cheng a set four blogs on the problem of no police station in Johore willing to accept a police report because of the involvement of a member of the Johore royalty.
When Johari was winding up the debate on behalf of the Internal Security Ministry in the Royal Address debate on Wednesday, he had given assurance that the police would accept reports lodged by the public and act on them.
I pointed out that one of the blemishes of the police performance highlighted by the Royal Police Commission was the refusal of the police to accept reports from the public, often sending them off on a "wild goose chase" from one police station to another.
This problem was supposed to have been resolved once and for all, but it is clearly not the case — as there is not only the problem of police not acting on police reports, there is also the problem of the police refusing to accept reports.
New Straits Times on Monday had one such report: "9 police reports, no action: IGP wants answers", where the Inspector-General of Police had vowed to ensure a thorough investigation into the allegation of forgery against a Malaysian Everest climber.
The problem of police refusing to accept reports was highlighted in the blogosphere, starting with mSTAR Online. No police station in Johore was prepared to accept the po9lice report because it involved a member of the Johore royalty — and the complainant was forced to lodge a report in Bukit Aman.
Johari had said that he was not aware of the matter, although he had earlier spoken of cybercops appointed to monitor blogs.
When the Deputy Internal Security Minister continued his winding-up yesterday and indicated that he was not yet apprized of the case that I had mentioned, I handed to him and Deputy Speaker chairing the meeting a set of four blogs bearing on the subject, viz:
When can Johari give a report to Parliament not only why no police station was prepared do its duty to accept a police report just because a member of the royalty was involved, but the outcome of police investigations?