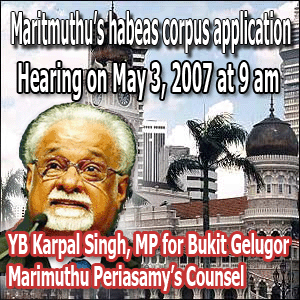 Hearing for the habeas corpus application of rubber tapper Marimuthu Periasamy, 43, for the release of his wife Raimah Bibi a/p Noordin and six children, Yoogneswary 12, Paramila 11, Hariharan 8, Ravindran 5, Shamala 5 and Keberan 4 from detention by the Selangor Islamic Religious Department (JAIS) for the past 22 days has been set by the Shah Alam High Court for May 3, 2007 at 9 am.
DAP National Chairman and counsel for Marimuthu appeared before the Shah Alam High Court Judge, Justice Su Geok Yian at 2.30 pm after filing a certificate of urgency for the hearing of the application.
DPP Shoba Vengopal, who appeared for the Selangor Islamic Religious Department, asked for a month for JAIS to file affidavit but Karpal argued for earliest hearing as family unity and human rights are at stake, with Marimuthu seeking to be reunited with his wife and six children who were forcibly separated from him on 2nd April 2007 on the ground that they were Muslims.