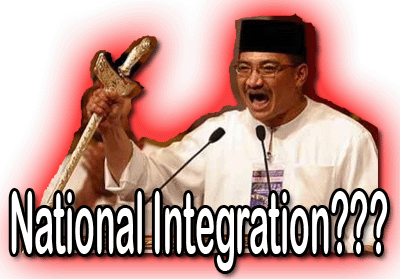 The Sun is the only English and Bahasa Malaysia newspaper to report my questioning the Education Minister and UMNO Youth leader, Datuk Seri Hishammuddin Hussin for his infamous keris-wielding in Parliament yesterday.
Hishammuddin was answering the query during Question Time on "the effectiveness of Students' Integration for Unity programme since it was put into practice and whether the programme has achieved its objective".
I had prefaced my supplementary question with the observation that Hishammuddin was "well-known" for his keris-wielding incidents in the context of extremist and communal demands in utter disregard of the rights and sensitivities of all races in a plural nation to the extent that he had been asked when he was going to use the keris, forfeiting his credibility and legitimacy as a symbol of national integration; and whether he would apologise for the keris-wielding incidents.
This set off a pandemonium in Parliament with Umno MPs creating a din to drown out my question, leading me to observe that UMNO MPs dared to defend the "keris-wielding" in the context of extremist and communal demands but dared not be questioned on the rightness of their actions in Parliament.
Sun's report < strong>"Keris-wielding gesture brought up again" follows:
Keris-wielding gesture brought up again

KUALA LUMPUR (April 17, 2007): Months have passed but the controversy over Umno Youth chief Datuk Hishammuddin Hussein's keris-wielding at the last Umno general assembly has not died down.

A shouting match between BN and DAP MPs erupted in the Dewan Rakyat today after Opposition Leader Lim Kit Siang (DAP-Ipoh Timur) questioned the education minister's credibility in answering a question on national unity.

"You are well-known for waving the keris and not sensitive of the feelings of the different races. As long as this matter has not been clarified, the minister has lost credibility to be a symbol of unity," he said in a supplementary question to Hishammuddin.

Lim's statement did not go down well with the BN MPs, who responded with boos.

"Waving the keris is something very normal in Malay culture," Datuk Mohamad Aziz (BN-Sri Gading) shouted from his seat.

Datuk Idris Haron (BN-Tangga Batu), Datuk Alwi Che Ahmad (BN-Ketereh) and several other MPs also stood up.

Deputy Speaker Datuk Lim Si Cheng had his hands full trying to restore calm.

"Yang Berhomat, sit down!" he shouted several times before asking Lim to continue with his question.

Lim then posed his question to Hishammuddin: "Are you willing to apologise (over the keris-wielding) incident?"

His words immediately drew flak from the BN MPs again.

At this juncture, Datuk Badruddin Amiruldin (BN-Jerai) tried to invoke the standing orders to stop Lim from making further remarks but was stopped by the deputy speaker, who asked Hishammuddin to answer the question.

"Why did Ipoh Timur make a baseless allegation early in the morning? Maybe he wants to use this as material in the Ijok by-election," Hishammuddin said.

"I want to advise you that you still lost although you and your counterparts had raised the issue in Machap (by-election). So even if you raise the issue in Ijok again, you will continue to lose," he said.