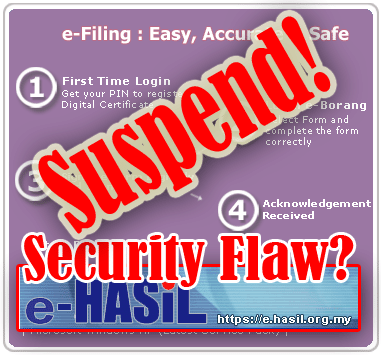 The Inland Revenue Board should suspend its income tax e-filing system if it is not safe and secure following complaint of security flaw of the system allowing access to the particulars of other taxpayers.
I have received an email from a taxpayer complaining such a security flaw, as follows:
As I was filing my tax returns via e-Filing I encountered something that made me worried. As I clicked the save & continue button but the page refreshed with some other person's Tax No. as well as their PRIVATE & CONFIDENTIAL info!

I was shocked and can even see the bank info and account number… I print screen and hope to make it known to others the possible leak of P&C info.

I find this NOT amusing as leaking anyone's financial info makes me lose trust in the system and LHDN. Imagine I got to view 2 other person's data!

If anyone here has direct access to LHDN's Head Officer please inform him/her as to this matter to rectify ASAP!
The complainant has also posted his complaint on his blog, WattaHack?
The Inland Revenue Board must demonstrate that with the introduction of its income tax electronic filing system, it is in the 24/7 era and mode, capable of giving instant response on its website even before the Inland Revenue Board office opens at 8 am tomorrow.
I am forwarding this blog to the Inland Revenue Board, [email protected], which will serve as a test as to whether it has fully embraced the 24/7 concept of e-government enabling it to come up with an immediate response today or whether it is still adopting the snail's space to operate its e-filing system.
Let see how long the Inland Revenue Board takes to respond to this complaint of its e-filing security flaw.
P.S.
I have got an instant automatic reply in my email to the Inland Revenue Board as follows, which is no good at all:
Tuan/Puan,
Ini merupakan maklumbalas secara automatik terhadap e-mel tuan/puan.
E-mel tuan/puan telah diterima pada 04/08/2007 jam 13:15:03.
Untuk makluman tuan/puan, pegawai kami sedang menyemak soalan-
soalan yang dikemukakan dan kami berharap dapat mengemukakan
jawapannya dalam tempoh terdekat.
Bagi memudahkan pihak kami mengesan dan menyemak e-mel asal
tuan/puan, sila gunakan nombor yang tertera di sebelah atas mesej
tersebut.
Dari
Pusat Khidmat Pelanggan
Jabatan Pengurusan Hasil LHDNM
Dear Sir/Madam
This is an automated response from system.
We received your e-mail on 04/08/2007 at 13:15:03.
Our officers are currently checking on your enquiries, and hope to have
an answer for you shortly.
In the event you need to contact us regarding your original message, please
refer to the tracking number at the top of this message. This will help our officer
locate and review your correspondence with us.
From
Customer Service Centre
Revenue Management Department LHDNM