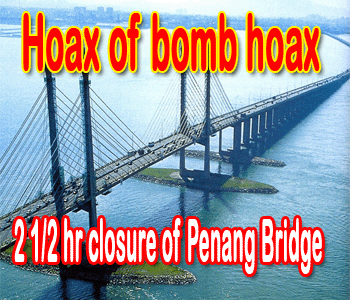 Fuming emails by irate victims of the totally unnecessary 2 ½ hr Penang Bridge closure on Wednesday, not because of any bomb hoax but the unbelievable ineptitude of Penang Chief Minister Tan Sri Dr. Koh Tsu Koon and Penang Works and Publ.ic Utilities Exco Koay Kar Huah.
This is one such fuming email:
The real cause?

Perhaps Datuk Dr Lim KY is going to regret when he had chosen a "coward"/soft/stupid/impotent leader!

Malaysia is not USA, where Tom Dick & Harry can b president. Their Executive System is strong enough for any stupid leader to order any emergency, crisis or war. Here our executive just push up without serious assessment and analysis of the case, they just like to let "boss"/leader to make decision and get rid of responsibility! So who is to be blamed when rakyat is the ultimate loser, many Chinese who went back to Penang for cheng beng were stranded and cannot get back to work in time, many missed their scheduled return trip, many were exhausted by the traffic jam and felt sick/fatigued. All in all just because somebody made an enquiry and the Police over reacted and CM making stupid decision without even using all available resources, brain, consideration to verify the case first.

This is very dangerous if in future he were to be subject to false alarm and declare state of emergency and ppl will take advantage of his weakness and then create chaos when they want to . And now we saw that Penang CM was fooled by another hoax call!! It is due to his richman's son background making him not a good leader!? He cannot afford to take risk and verify first b4 making decision and promote a "fear"/kiasi/kiasu culture to Penangites to follow. Ppl R so easy to fictitiously create rumour and spread fear, they falsely accuse ppl breeding aedes, breeding snakes and evil, so they can then make use of MPPP mechanism to help clean house as well as "clean" his "eye sore" which he is jealous of but are the property of other ppl.

Similarly, ppl started to get fed up with CM's soft leadership/kiasi leadership, so they create fear, and at the end the ordinary ppl
suffer, the bridge was closed for several hours just after office hour where ppl R rushing home! Why it is so simple for just a call on pretext of coming from Datuk Kuok ?

My sister suffered heart failure and my house was not installed with telephone, so I rushed to roadside phone booth and call for
ambulance, they take it easy and verify me by asking me my return phone number, when I cannot give one, they ignored me, I have to call several times and gave assurance , explanations and swear/beg to them , then they delay and passing one another and another until finally they sent one ambulance coming. But my sister already gasped her last breath. Maybe if I were to call CM, he may save my sister's life?!!

There should be some sort of screening and verifying B4 decide to close the bridge, after all what is the probability of a real bomb or time bomb? and what damage will happen if it exploded? Was CM justified to declare "emergency" and close the bridge? What happened if the sudden closure of the bridge may cause death such as heart attack, accident?

There must be some "check n balance" Tan Sri CM !!!
Backgrounder to the "hoax of the bomb hoax" resulting in the 2 ½ hr closure of Penang Bridge and the traffic snarl-up for thousands for hours:
Thousands of Penangites were caught in a massive evening jam when the Penang Bridge was closed for more than two hours after police received a call that there was a bomb on the bridge.
Many motorists heading towards the bridge after work were caught unaware and found themselves in a traffic bottleneck at the Bayan Lepas coastal road leading to the bridge on the island and Seberang Jaya on the mainland.
The bridge was closed to traffic at 4.30pm and only reopened at 7pm.
Traffic had to be diverted to the ferry terminals on both the island and Butterworth, causing George Town and Butterworth town to be choked with cars and motorcycles. (Star 5.4.07)
Fuming motorists were left stranded for more than three hours.
On the mainland, the traffic jam stretched all the way from the bridge area to the Nibong Tebal toll plaza.
The situation was not any better on the island, as motorists were caught in traffic jams on roads leading to the bridge, including the Jelutong Expressway, Jalan Masjid Negeri and Jalan Datuk Keramat.
The bridge closure also saw many motorists making their way to the ferry terminal to catch the ferry instead.
As a result, the normally smooth-flowing traffic to the ferry terminal on the island and mainland became congested. (New Straits Times 5.4.97)
The supposed cause
Police at the state contingent headquarters operations room received a call saying that there was a bomb on the bridge.
George Town OCPD Asst Comm Azam Abd Hamid said police then alerted Chief Minister Tan Sri Dr Koh Tsu Koon and he gave the green light for the police to close the bridge.
"A six-man bomb squad was sent to the bridge immediately. They found a 0.3m-long, 10cm-diameter steel pipe," ACP Azman later told a press conference at the Northern Region marine police base.
The pipe, he said, was found wedged in the divider at the 3.9km point of the bridge on the Butterworth-bound side.
"It was suspected that the steel pipe contained explosives. Not taking any risk, the squad detonated it at 6.45pm at the site," said ACP Azam. (Star 5.4.07)
The Real Reason (1) – No bomb just steel pipe!
It was not a bomb. Police have confirmed that the steel pipe found wedged in the Penang Bridge divider did not contain any explosives.
"We believe the pipe could be a kangaroo bar from a vehicle. We checked the remains after detonating the pipe and found there was no explosive material," George Town OCPD Asst Comm Azam Abd Hamid said yesterday. (Star 6.4.07)
The Real Reason (2) — ineptitude of Koh Tsu Koon and Koay Kar Huah
It has turned out that the phone call which led to the closure of the Penang Bridge came from State Works and Public Utilities Committee chairman Datuk Koay Kar Huah.
Koay yesterday admitted that he received a call from a friend who was stuck in a traffic jam enquiring if there was a bomb on the bridge.
"I got the call and instructed my staff to check and verify if it was true. They then called the Malaysian Highway Authority," he said at a specially called Press conference by Chief Minister Tan Sri Dr Koh Tsu Koon.
Asked if that was all the information that led to a wild goose chase which inconvenienced thousands of people, Koh chipped in and defended the decision to close the bridge.
Koh said the decision was made at 4.30pm after police received a call that a bomb had been placed on the bridge.
"I acknowledge the closure of the bridge caused a serious jam which inconvenienced many people.
"However, the police did the right thing. We have to place safety over convenience when such a situation arises"…
Meanwhile, northeast district police chief ACP Azam Abd Hamid said the police operations room at the state police headquarters received a call at 4pm informing there was a bomb on the bridge. He said police traced the number to Koay's office.
"However, we are not going to take his statement as we treated the bomb call as a genuine threat."
State deputy police chief Datuk Othman Harun said police had classified the case as intent to cause fear or alarm to the public under Section 505 of the Penal Code.
Thousands of motorists were caught in a massive jam for hours on both sides of the Penang Bridge when it was closed to traffic.
The traffic jam stretched all the way to the Nibong Tebal toll plaza on the mainland while roads on the island leading to the bridge such as the Jelutong Expressway and Jalan Masjid Negeri were also chock-a-block with traffic.
The road was only reopened to traffic at 7pm after police detonated a steel pipe which did not contain any explosive device. (NST 6/4/07)
Self-exculpation
State Works and Public Utilities Committee chairman Datuk Koay Kar Huah said the public should stop blaming him for the temporary closure of the Penang Bridge on Wednesday
His one phone call had snowballed into something that no one had expected.
"I only made one call and that was to enquire if there was a bomb on the bridge.
"I asked a Public Works Department senior officer to verify it with the relevant authorities as I was attending a meeting then.
"I thought I did the right thing and I feel I should not be blamed for making that call," Koay said yesterday.
Koay made the call to the PWD senior officer following a phone call he received from a friend who was caught in a jam at the bridge.
His friend was informed by others there of the existence of a bomb.
Koay said at no time did he call the police asking them to close the Penang Bridge, which resulted in a massive traffic jam from 4.30pm to past 7pm on Wednesday. (NST 7.4.07)