Archive for July 4th, 2013
By Kee Thuan Chye
Yahoo News
4th July 2013
The amendment to Clause 107(b) of the Administration of Islamic Law (Federal Territories) Act 2013, tabled for passing this month, is going to be one helluva bill. Voting on it will see whether representatives of certain component parties within the ruling Barisan Nasional (BN) coalition will break from the party line and vote according to their own conscience.
The MCA, the MIC and Gerakan, avowedly looking after the interests of non-Muslims, have been critical of the bill. It will therefore be a real test of their integrity to vote against it. Abstaining from voting will not be enough. They must walk their talk.
From the layman's point of view, the bill seems to be simply about granting either parent of a child below the age of 18 the right to convert the child to Islam. The front-page headline of the July 3 edition of theSun sums it up: 'Mom or dad?' And if one were to apply simple logic, the answer would be obvious. Since both parents gave life to the child and are responsible for its growth, why should it be that only one is enough to decide?
But the issue is not so simple. It never is when it comes to religion. And more than that, this current bill indicates an about-turn by the Cabinet. Read the rest of this entry »
Another evidence of Utusan Malaysia's relentless effort to spearhead Najib's Media Transformation Programme to transform news into lies, truth into falsehood, facts into fiction and information into misinformation
The Kuala Lumpur High Court award of RM250,000 in damages and RM30,000 in costs against Utusan Malaysia in favour of former Perak Mentri Besar Datuk Seri Mohamad Nizar Jamaluddin over the WWW1 car number plate issue is the latest evidence of the UMNO media's relentless effort to spearhead Prime Minister Datuk Seri Najib Razak's Media Transformation Programme (MTP) to transform news into lies, truth into falsehoods, facts into fiction and information into misinformation.
In its role to blaze the path towards media transformation programme, Utusan had set a new record for both national and international media, as the media whether inside the country or in the world which is not only the most sued for defamation but for losing the most defamation suits, including:
• Two libel suits by Penang Chief Minister Lim Guan Eng who was awarded RM400,000 in accumulated damages for both suits;

• Judgment of RM50,000 in damages to DAP National Chairman and MP for Bukit Gelugor Karpal Singh in December 2012 for a "mischievous" Utusan article painting him as anti-Islam; and

• In January 2013, the High Court awarded Anwar Ibrahim RM45,000 in damages after a series of Utusan articles deliberately misrepresented his statement in a BBC interview so as to suggest that the opposition leader was pro-LGBT.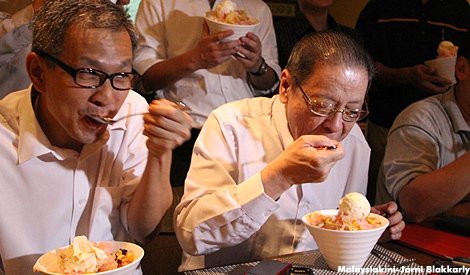 By Jarni Blakkarly | 11:46AM Jul 4, 2013
Malaysiakini
A visit last night to the so-called command centre of the 'Red Bean Army' of cybertroopers that Malay daily Utusan Malaysia said are paid at least RM100 million to work for the DAP showed no evidence of such a centre in operation.
The 10pm visit to the centre at a four-star hotel in Kuala Lumpur was organised by DAP parliamentary leader Lim Kit Siang, who wanted to put to rest the allegation against the party.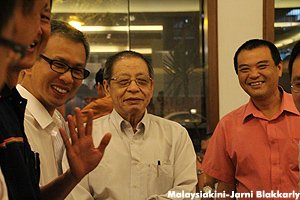 Lim led a team of party leaders and members of the media to the hotel in the heart of Kuala Lumpur and straight away went to the hotel's restaurant to hold a press conference to rebut the claim made by the Umno-owned daily.
Soon after May 5 general election, BN leaders and Utusan claimed that DAP had spent between RM100 million and RM1 billion to fund a Red Bean Army of cybertroopers to attack the BN and the government in cyberspace, and named Concorde Hotel as one of its bases.
Among the DAP leaders present last night were vice-president and Bandar Kuching MP Chong Chieng Jen, national publicity secretary and Petaling Jaya Utara MP Tony Pua and treasurer and Bukit Bintang MP Fong Kui Loon.
Read the rest of this entry »