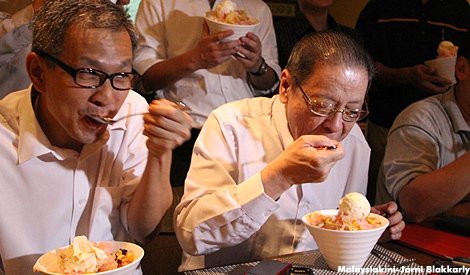 By Jarni Blakkarly | 11:46AM Jul 4, 2013
Malaysiakini
A visit last night to the so-called command centre of the 'Red Bean Army' of cybertroopers that Malay daily Utusan Malaysia said are paid at least RM100 million to work for the DAP showed no evidence of such a centre in operation.
The 10pm visit to the centre at a four-star hotel in Kuala Lumpur was organised by DAP parliamentary leader Lim Kit Siang, who wanted to put to rest the allegation against the party.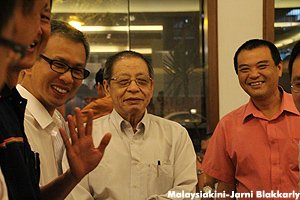 Lim led a team of party leaders and members of the media to the hotel in the heart of Kuala Lumpur and straight away went to the hotel's restaurant to hold a press conference to rebut the claim made by the Umno-owned daily.
Soon after May 5 general election, BN leaders and Utusan claimed that DAP had spent between RM100 million and RM1 billion to fund a Red Bean Army of cybertroopers to attack the BN and the government in cyberspace, and named Concorde Hotel as one of its bases.
Among the DAP leaders present last night were vice-president and Bandar Kuching MP Chong Chieng Jen, national publicity secretary and Petaling Jaya Utara MP Tony Pua and treasurer and Bukit Bintang MP Fong Kui Loon.

As soon as the press conference ended, the DAP leaders were served bowls of ais kacang, which appeared to be a gesture by the DAP to mock all the reports of cyber attacks the party has been accused of making.
The pronunciation of ais kacang, a very popular dessert in Malaysia, is similar with 'red bean army' in Chinese.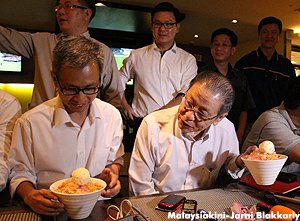 While they were enjoying the dessert, they, coincidentally, found out that their ais kacang came without the red bean. As such, Chong jokingly said, "this sends a message that there is no red bean army (in this hotel)".
Lim and the other DAP leaders have consistently rebutted the allegation, calling it a ploy by "invested interests in Umno" to get funding for their own cybertroopers.
Two days ago, Minister in the Prime Minister's Department Shahidan Kassim said, after receiving a memorandum from 130 Malay Muslim NGOs, that the cabinet would discuss the formation of a royal commission of inquiry (RCI) to investigate the Red Bean Army claim.
Nevertheless, Lim challenged the police to raid the hotel if they believed in the claim.
"If the police believe this Red Bean Army nonsense, they should raid this hotel. The only reason they haven't is that they are not stupid enough to believe this tall tale," he said.
"If the police are smart enough to see through this story, it reflects very poorly on the IQ of the cabinet," he added.
Are we having a 'Red Bean Cabinet'?
"Shahidan is being very gullible. He is telling the world that he is the most gullible minister in history.
"We would like to know how many other ministers are as gullible, or if we are having a 'Red Bean Cabinet'?" he quipped.
Lim also challenged Shahidan to set up a RCI to probe all the "racist" and "inflammatory" statements made by Utusan Malaysia, should this be demanded by the public.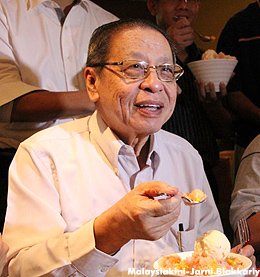 "If I summit a memorandum with more than 10,000 signatures on it, will you promise to hold a RCI into the racist, inflammatory and seditious lies that Utusan has been spitting out over the last four years?
"If Shahidan can give us an assurance he'll do so, I will start a signature campaign and lodge a memorandum immediately. You want 1,000? 2,000? More than 10,000? I'm sure it should not be a problem," Lim added.
Meanwhile, Pua called on Prime Minsiter Najib Abdul Razak, who has remained silent on the Red Bean Army issue until today, to step up and put an end to this.
"In the interest of national reconciliation, this matter must stop. Najib has to tell his minions to do so," Pua added.