Archive for August 16th, 2012
By Anisah Shukry | August 16, 2012
Free Malaysia Today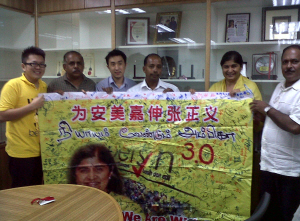 KUALA LUMPUR: It is a rare sight when the fiery spokesperson for free and fair elections – S Ambiga – is rendered speechless. But that was what happened when she was presented with over 10,000 signatures from Malaysians in support of her work.
Ambiga was stumped and the only word which initially kept rolling out was 'wow'.
But her laughter and happiness was infectious as she perused the large banner which had numerous signatures scrawled on both its sides.
"This is really precious to me! I am totally overwhelmed by the number of signatures," gushed the Bersih co-chairperson once she recovered from her surprise.
Ipoh Barat MP M Kulasegaran, who presented the banner to Ambiga in her office along with Sungkai state assemblyman A Sivanesan, said it "was worth the effort to garner the support."
Read the rest of this entry »