By Anisah Shukry | August 16, 2012
Free Malaysia Today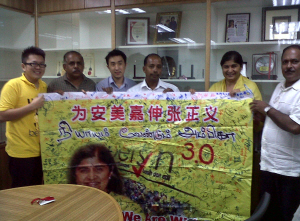 KUALA LUMPUR: It is a rare sight when the fiery spokesperson for free and fair elections – S Ambiga – is rendered speechless. But that was what happened when she was presented with over 10,000 signatures from Malaysians in support of her work.
Ambiga was stumped and the only word which initially kept rolling out was 'wow'.
But her laughter and happiness was infectious as she perused the large banner which had numerous signatures scrawled on both its sides.
"This is really precious to me! I am totally overwhelmed by the number of signatures," gushed the Bersih co-chairperson once she recovered from her surprise.
Ipoh Barat MP M Kulasegaran, who presented the banner to Ambiga in her office along with Sungkai state assemblyman A Sivanesan, said it "was worth the effort to garner the support."

He said that collecting the signatures had not even been his idea; on the contrary an earnest member of the public had approached him with the suggestion.
Relating the incident which spawned the banner, Kulasegaran said: "When I was at the market, someone walked up to me and said, 'how could something like this happen to Ambiga?'
"The man told me that as an MP, I should go around the country to gather support and signatures, which I did!
"It was really fabulous, the support was fantastic. I had party leaders as well as ordinary folks from all races wanting to be part of this change and wanting an end to this harassment [against Ambiga]," the Perak DAP vice chairman said.
The member of public had been alluding to the lost list of harassment Ambiga had endured from authorities, politicians and even veteran members of the national army.
'This made my year'
According to Kulasegaran, what was even more touching was when members of the public asked if they could donate money.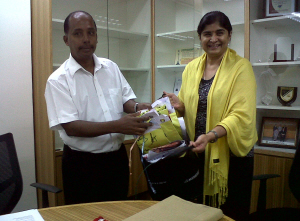 "Usually, people run away when they think we are asking for donations. But this time we had people, old and young, asking us, 'do you need money?," he said.
When asked whether he had faced any obstacles in collecting the signatures, he replied: "The only obstacle was people coming to me too late with their signatures!"
Ambiga, who was draped in a yellow shawl which symbolised the official colour of the Bersih coalition, said she was speechless over the bravery shown by her supporters, adding this (pointing to the banner) "made my year."
"I'm speechless! They wrote their names, their IC numbers, their phone numbers… they aren't afraid at all. It's amazing!" she marveled as she flipped through endless pages of her supporters' signatures and contact details.
"But actually I shouldn't be surprised," she added thoughtfully.
"Everyone should please stop insulting the intelligence of Malaysians. I really think the government should sit up and pay attention.
"It truly shows that the public knows what is right and wrong, and the fact that they are willing to take the additional step of showing they know from right and wrong, that is very touching.
"The Malaysian public is setting the standard for decency, not the government," she added.
'Malaysians unhappy with hate speech'
Ambiga also said she considered the pledges as not being about her, but about the fact that Malaysians were tired of the "encouragement of hate speech", which she said was becoming a dangerous trend.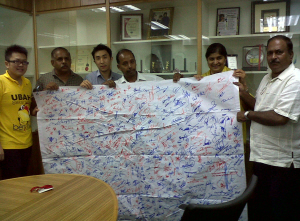 In June, an Umno lawmaker had famously called for Ambiga to be hanged for her "treasonous" act of organising the April 28 rally, comparing her to leaders of the Al-Ma'unah militants who tried to overthrow the government in 2000 and were sentenced to death by hanging for "waging war against the King."
"Shouldn't we also hang Ambiga for treason towards the Agong? Traitors should be punished as harshly as possible," Sri Gading MP Mohamad Aziz had told Parliament.
He was later ordered to withdraw his remarks by Dewan Rakyat Deputy Speaker. He did so but not before launching into an attack against the DAP for being a "racist" party.
Ambiga had also endured an attempted break-in at her office in May, and became the target of several groups comprising army veterans and burger sellers who had staged protests in front of her house to voice their discontent over the Bersih rally.
Meanwhile, the government is suing Ambiga and nine Bersih committee members for RM122,000 over the damages incurred during the April 28 rally. It is also seeking a declaration that Bersih 3.0 had violated the Peaceful Assembly Act.
But Ambiga said today the support she received from Malaysians "more than makes up for it."
"I have people sending flowers and gifts to my office every weekend. The expression of the hearts and minds of the people is so valuable to me," she said.
When asked whether she would be hanging the banner in her office, Ambiga laughed and said: "I have so many of these signatures, so it will have to take turns on my wall!
"But this is something money can't buy, and I shall treasure it forever," she said, smiling broadly.