Archive for July 18th, 2007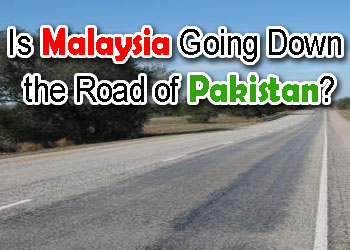 The recent announcement made by the Deputy Prime Minister of Malaysia, Najib Tun Razak, to the effect that 'we (Malaysia) are an Islamic state' is mind-boggling to say the least. Speaking during a conference in Kuala Lumpur on the theme of 'The Role of Islamic States in a Globalised World', the Deputy Prime Minister claimed that Malaysia has 'never been affiliated' to a secular position that that Malaysia's development 'has been driven by our adherence to the fundamentals of Islam'. (Bernama, 17 July 2007)

One cannot help but wonder if this was a case of a cynical historical revisionism at work, for there is ample historical data to show that the opposite was the case, and that the forefathers of the Malaysian nation — from Tunku Abdul Rahman to his own father Tun Razak and Hussein Onn — were keen to ensure that Malaysia remained a constitutional democracy where the state would play the role of honest broker and govern a Malaysian public that was multi-racial and multi-confessional.
Furthermore the claim that Malaysia is an Islamic state is far-fetched to say the least according to the criteria of traditional Islamic legal orthodoxy and normative Muslim standards of ethics. Would an Islamic state condone the use of laws like the ISA that allow for detention without trial, or laws like the OSA and the Sedition Act? And does Islam explicitly talk about the need to create faith rehabilitation centres where Muslims and non-Muslims are interned to 'convert' them to the right (re. State-defined) practices of Islam?
The comments made by the Deputy Prime Minister would suggest a totalising discourse that fails to take into account the pluralism that is at the heart of the Malaysian nation and nation-building project. When he states that 'we have always been driven by our adherence to the fundamental principles of Islam', is he referring to the entire Malaysian population that includes not only Muslims but also Christians, Hindus, Buddhists, Sikhs and peoples of other faiths? Or by the term 'we' is he referring to the oligarchy of Malay-Muslim elites who man the helm of UMNO and the ruling National Front alliance that governs the country?
It is therefore not surprising to think that this was yet another case of a Malay-Muslim politician playing to the Malay-Muslim gallery the way that so many other Malay politicians have done in the past. After all, the declaration of Malaysia as an Islamic state was made earlier by former Prime Minister Mahathir; and it was also Mahathir and his former Deputy Anwar Ibrahim who spearheaded the Islamisation programme in Malaysia in the 1980s, taking the country further from its secular constitutional roots and towards a more communitarian register on the basis of Malay-Muslim identity politics.
At this crucial stage in Malaysian history where the Constitution has all but been forgotten, it would be wise to reflect on the mistakes made by other Muslim leaders elsewhere who have brought their countries to the brink of ruin by playing the 'Islam card'. One country that comes to mind is Pakistan, which today is black-listed as a den of terrorism and has been cast as a pariah state internationally. Yet Pakistan's slippery slide towards violent sectarian religious politics was not started by conservative Mullahs or even the military dictator General Zia ul Haq, but the secular leader Zulfikar Ali Bhutto. Read the rest of this entry »