Archive for July 3rd, 2007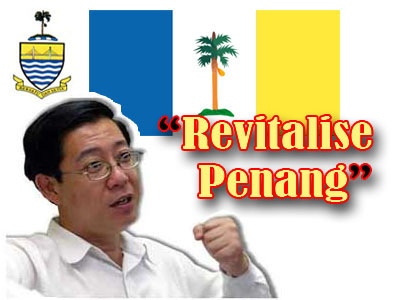 "Revitalise Penang" Dialogue Series (I)

Organised by DAP Kampong Kolam Branch

THEME: "Lets Revitalise Penang Economy"
The economy of Penang used to be the most robust and competitive in Malaysia with giants like Intel anchoring the high-technology manufacturing industry. However, today, it lies a distant 3rd in the country, after Selangor and Johor. The Pearl of the Orient has clearly lost its sparkle.
How can DAP help revitalise Penang, and make the Pearl of the Orient shine, once again?
Speaker: LIM GUAN ENG
DAP Secretary-General
TONY PUA
Economic Advisor to DAP Sec-Gen
(Graduate in Philosophy, Politics & Economics, Oxford University)
YB CHOW KON YEOW
Member of Parliament for Tanjong
DAP Penang State Chairman
Language: Mandarin / English

Date: 6.7.2007 (Friday)
Time: 8.00 p.m. (Please be punctual)
Venue: The hall of Chew Si Kee San Tong
(33, Lebuh Kimberley, Georgetown )
Contact : 04-2288482 / 2277068
R has emailed her concern about the Church of Our Lady of Guadalupe, Puchong as to why its freehold status has been changed to 60-year lease. Anyone can throw further light?
R's email:
Even as the PM was talking overseas telling about love and peace and harmony in our multireligious country, there are many fundamentalists trying to derail his statements and prove him wrong.

I am a Catholic. I was informed that our new Church in Puchong, Our Lady of Guadalupe, suddenly faced a "crisis". This church is in Selangor and you must remember what happened to our application for a church in Shah Alam over 20 years ago. Whether the Selangor govt or just the over-zealous local authorities are behind that problem, I don't know. But now, it's happening directly aimed at our church in Puchong.

This Church was actually an old chapel which was asked to relocate owing to housing development and the developers promised to give back a piece of land to rebuild a church. For many years we have been operating from temporary buildings including shifting from shophouse to shophouse. Finally a Church was built on a funny V-shaped piece of land in front of some shophouses just before an industrial area. It looked like remnant, left-over vacant land but beggars can't be choosers?

The land in the whole area including the land over which the Church is built is freehold land. Now, suddenly out of the blue, we are told that the land on which the Church is built is alienated to a 60 years leasehold whilst the surrounding area is still freehold! Is this not discriminatory?