Archive for March 22nd, 2007
The third front where I had hoped would be special mention of new policy initiatives in the Royal Address is in connection with Abdullah's pledge to lead an open, accountable and transparent administration — in particular a firm government commitment to introduce a Freedom of Information Act to replace the Official Secrets Act (OSA) and the removal of the OSA and declassification of all privatization contracts, whether toll contracts, power and water concessions, to put them in the public domain for the scrutiny of the Malaysian public.
The Works Minister, Datuk Seri S. Samy Vellu was recently very incensed and hurt. He appeared on the front page of New Sunday Times (Feb. 25, 2007) with blaring headlines: "'Works Minister, still smarting over being accused of 'going for blood', says… 'I'm no Dracula'".
Samy Vellu accused me of calling him a Dracula.
He said: "Lim Kit Siang said I was going for blood. He was indirectly saying I'm a Dracula. Only a Dracula goes for blood. A man and politician of his age and experience should be more cultured when he talks about other people."
I said he was "bloodthirsty" and I stand by what I said. But I never said he is Dracula. If he is a Dracula, then it is his own self-description!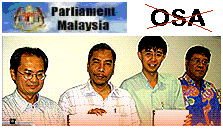 Let me state in this House that "Dracula" had never entered my mind when in my statement of 3rd February I had demanded to know why Samy Vellu was "suddenly so 'bloodthirsty' as to want four Opposition leaders, namely Tan Sri Khalid Ibrahim and Tian Chua of PKR, Ronnie Liu of DAP and Dr. Hatta Ramli (PAS) jailed for at least a year under the Official Secrets Act (OSA) for revealing that the government had guaranteed profits to Litrak in the Lebuhraya Damansara-Puchong (LDP) concession agreement?" Read the rest of this entry »