Archive for March 24th, 2007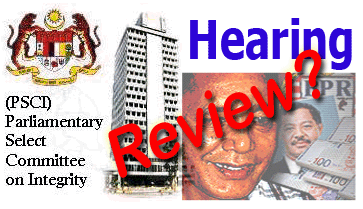 The Parliamentary Select Committee on Integrity (PSCI) will be asked on Tuesday to review the "on/off/on/off hearing of Anti-Corruption Agency (ACA) director-general Datuk Seri Zulkipli Mat Noor and whistleblower/former ACA Sabah director Mohamed Ramli Abdul Manan.
This follows the latest development where Ramli's counsel, M. Manoharan, had given assurance that the issue of sub judice at the PSCI hearings for Zulkipli and Ramli does not arise as the serious allegations of corruption against Zulkipli has no bearing on Ramli's civil suits against the ACA chief. The civil suit involved non-payment of salaries, pensions and gratuities.
As for the corruption trial of former minister Tan Sri Kasitah Gaddam, both Zulkipli and Ramli are not material witnesses.
Furthermore, the Ramli civil suit could take years to be decided while the Kasitah trial is still in the prosecution stage.
As the PSCI is meeting in Parliament on Tuesday in its continuing inquiry into the Sabah Project I/C scandal, I will raise the letter from Ramli's counsel and his request for an early date for a hearing for deliberation and decision.
There is now even more compelling reasons why the PSCI should neither flinch nor hesitate from holding hearings for Zulkipli and Ramli if the Select Committee is to remain true to its terms of reference to uphold and promote national integrity. Read the rest of this entry »