Archive for August 7th, 2013

I wish all Muslims in Malaysia Selamat Hari Raya Aidilfitri.
This is an auspicious occasion for non-Muslims in Malaysia to join their Muslim compatriots to commemorate a national celebration to underline a greater national unity, harmony and solidarity built over 56 years of Malaysian nationhood.
Recent events particularly in the past three months have given rise to valid and legitimate concerns about the success of Malaysian nation out of the diverse races, languages, religions, cultures and territories in the country in the sixth decade of Malaysian nationhood.
Immediately after the recent 13th general elections, Utusan Malaysia bannered a front-page headline: "Apa Lagi Cina Mau?"
This question should not have been asked, just as questions like "Apa Lagi Melayu Mau?"; "Apa Lagi Indian Mau?", "Apa Lagi Kadazan Mau?" or "Apa Lagi Dayak Mau?"
It may be understandable for such questions to be asked in the first decade of nationhood, but something is very wrong when such questions are asked in the sixth decade of nationhood.
Read the rest of this entry »
This is the second day of the week-long period I suggested to give the fictitious "Father Augustus Chen" who allegedly wrote the booklet "The Equity Report (CEC Election Fraud)" which is used by UMNO/BN leaders and the Registrar of Societies (RoS) as authority to invalidate the DAP Central Executive Committee (CEC) elections last December to surface and prove he is not a phantom.
I have been told that there is no person by the name of Father Augustus in Malaysia, let alone Father Augustus Chen. But let us give the purported "Father Augustus Chen" the benefit of the doubt for the next five days for him to surface and prove that he is not a phantom.
I for one would like to meet the purported "Father Augustus Chen" or the person camouflaging as "Father Augustus Chen" as he is quite a genius, although an evil genius, for I do not think it is easy to find another person who could pack so many lies and falsehoods into a 12-page booklet, with each page crammed and brimming with lies and falsehoods.
There are easily some 100 lies and falsehoods in "Father Augustus Chen's" DDD (Demonise/Destroy DAP) 12-page booklet, proving he is quite a "find" for the UMNO/BN "war-room psy-war" campaign against the DAP.
Read the rest of this entry »
The Malaysian Insider
August 07, 2013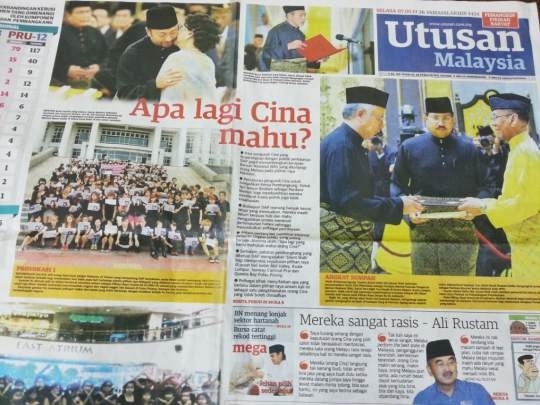 In a book about his years in power, former prime minister Tun Abdullah Badawi makes a startling revelation about how he dealt with Utusan Malaysia, in stark contrast to how the strident newspaper is managed by its Umno backers now.
Abdullah was known for liberalising news media in an attempt to restore their credibility after the severe damage that mainstream media took under the Mahathir years, but Abdullah still kept a firm line on racial and religious issues.
Referring to his appointees, he said, "I did not interfere with their work as I believed that they had a professional job to do and I allowed them the space to do it. But when they abused the openness by playing up racial and religious issues, like when Utusan Malaysia did, then I would call them and warn them."
He revealed that he made a phone call to the editor-in-chief of Utusan Malaysia and left him with a stark warning: the newspaper had crossed the boundary with an editorial that smacked of racism and he should expect no favours from Putrajaya if charged with sedition.
Read the rest of this entry »