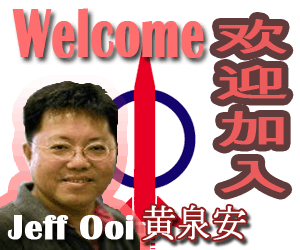 Welcome, Jeff Ooi, Malaysia's pre-eminent blogger to DAP and Malaysian politics!
Jeff has created waves in the Malaysian blogosphere. We await a tsunami from him in the political arena.
Jeff's statement of the reasons for joining the DAP is an eloquent expression of patriotism of a Malaysian, illustrating that patriotism is an integral part of all Malaysians and not the monopoly only of those who hold office or high positions. This makes the 50th Merdeka anniversary particularly significant.
Recently, one political upstart said:
"It is the law of the jungle and we need to take action against one 'monkey'.

"I think the other 'monkeys' will also get scared.

"They are not above the law."
This upstart was referring to Malaysian blogs. Apart from his loyal following, he will not find much agreement from bloggers.
It is regrettable to see the use of such derogatory language and the debasement in the standard of public discourse.
Many however will agree if his description is applied to public and political life, especially with regard to corruption, crime and public accountability and transparency where the rule of law appears to have been replaced by the law of the jungle.
There will also be considerable agreement as to the identity of such "monkeys" in the law of the jungle of public life and politics.
But will any action be taken against one "monkey" so that the other "monkeys" will also get scared and the country can begin to see the restoration of integrity, efficiency and effectiveness in public and political life?
I do not want to use the "monkey" language but this will be one of the challenges of Jeff Ooi, together with others in the political arena, to fight back the creeping law of the jungle and to restore the rule of law in Malaysian political and public life.
It has been said that Jeff Ooi's decision to join the Opposition is a loss to blogging.
It should not be so. It should be a gain to both politics and blogging in Malaysia, enriching both.
I will like to see more politicians taking up blogging and more bloggers entering politics.
After all, blogging particularly socio-political blogging is not an end by itself but a means to an end and a time must come when bloggers must decide whether they should "dirty their hands" and make the transition from advocacy of their political ideals in cyberspace to enter the political terrain to be able to directly translate their ideals into action.
There is the perception that politics is dirty. It it is not politics that is dirty.. Politics is an honourable calling demanding conviction, passion, selflessness and sacrifice. If politics is regarded as dirty, it is the politicians who make politics dirty. Let bloggers get directly involved in politics to cleanse and rid it of "dirty", unscrupulous and unprincipled politicians!
This welcoming party for Jeff Ooi to is significant both for Malaysian blogging and Malaysian politics.
It coincides with the 50th Merdeka anniversary celebrations which should be a milestone to assess both our achievements and failures in five decades of nation-building so as to chart the nation's course for the coming decades. It also takes place in the midst of a "war on blogs" declared by the powers-that-be, demonstrating that the those in power have not come to terms with the influence and implications of the new media.
We are at the end of the fourth year of the Abdullah premiership which had received the unprecedented mandate of 91% of parliamentary seats in the 2004 general election. There is now a full-blown crisis of confidence over the lack of political will of the Prime Minister to honour his reform pledges and agenda to lead a clean, incorruptible, efficient, accountable, trustworthy and democratic administration which is highly competitive to face the challenges of globalisation with world-class institutions like world-class civil service, world-class police, world-class universities, world-class judiciary, world-class Parliament, etc staffed by towering Malaysians.
But we have yet to make a real start in this direction while in many instances, we have regressed and gone backwards.
We, including bloggers, have to pick up the pieces. I call on more bloggers to emulate Jeff Ooi to make the 50th Merdeka anniversary a catalyst for a political commitment to create an united, progressive, democratic and just Malaysia where all Malaysians are proud of the country and can walk tall in the world.
I look forward to see Jeff Ooi and other bloggers taking their places in the next Parliament and State Assemblies to create a better Malaysia for ourselves, our children and our children's children.
(Speech at the "Jeff Ooi's Welcoming Party" as member of DAP in Petaling Jaya on Tuesday, 31st July 2007 at 11 am)