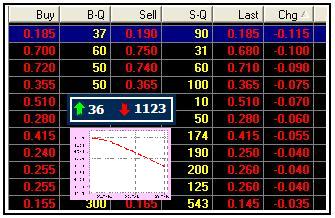 The Prime Minister Datuk Seri Abdullah Ahmad Badawi had a special Chinese New Year message for Malaysians in the first two days on the Chinese New Year on February 18 and 19, 2006 — to enter the stock market to "ride on the momentum" of the good economic times.
This was his common theme at the Gerakan Chinese New Year open house in Kuala Lumpur on the first day of the Chinese New Year and at the open house of the Penang Chinese Chamber in Penang on the second day of the Chinese New Year.
Abdullah pointedly said that the Bursa Saham composite index, which was at the time at a high of more than 1,258 points, could surpass the 1,350-point level following positive indicators of the country's economic growth — namely the trillion ringgit total trade last year, the increasing foreign and domestic investments and and the rising ringgit. (New Straits Times 21.2.07)
There had been widespread skepticism about the slew of "good economic news" which had been trotted out by the government in the previous two weeks, particularly about foreign direct investments which clearly conflicted with statistics released by the United Nations Conference Trade and Development (Unctad) — raising the question as to why there is a difference of between RM6.4 billion to RM9.8 billion in the statistics released by the Ministry of International Trade and Industry (MITI) and Unctad on 2006 FDIs into Malaysia.
However, when the Prime Minister openly urged Malaysians to enter the stock market "to ride on the momentum" in expectation of the KLSE rising above 1,350 points, small investors cast aside their doubts, reservations and skepticism and entered the stock market in a big way after the Chinese New Year holidays, lifting the KLCI to close at 1,283 points last Friday — with the Star yesterday carrying the screaming headline "KLCI poised to break record" for this week.
KLCI did "break record" in the past two days, but of a different kind – suffering the biggest drop in five years yesterday, plunging by 35.79 points to 1,237.08 and another 40.63 points to 1,196 points at the close of market today.
Yesterday, RM38.38 billion of market capitalisation was wiped out in one day while RM31.07 billion was wiped out today. The bulk of the RMRM69.45 billion losses in the past two days have been borne by the small investors who had been persuaded by Abdullah to enter the market to "ride on the momentum" for KLCI to surpass 1,350 points.
The unusual Cabinet meeting tomorrow should cushion the massive losses suffered by small investors who acted on the Chinese New Year advice of the Prime Minister to enter the stock market to "ride on the momentum" to surpass 1,350 points for the KLCI and who bear the brunt of the massive RM70 billion losses in the stock exchange in the past two days.
(Speech at the Pasir Pinji DAP Branch Chinese New Year reception in Ipoh on Wednesday, 28th February 2007)