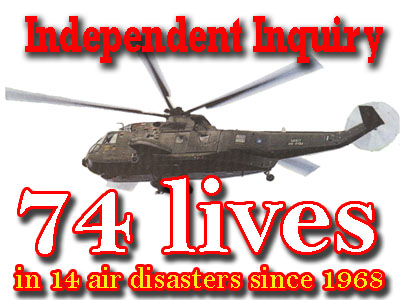 Deputy Prime Minister and Defence Minister, Datuk Seri Najib Razak, announced yesterday that the Cabinet had decided that the Nuri helicopters be phased out within three years and that an international tender for new helicopters would be called in the next few months.
The Nuri helicopters would still be used pending the arrival of new helicopters.
He said: "They are the only aircraft available to carry out operations. We can't stop using them."
The air force has more than 20 Nuri helicopters aged between 30 and 40 years.
"We pray that such accidents will not happen again," Najib said, adding that no one could guarantee such incidents would not recur.
Such an explanation is neither satisfactory nor acceptable to the public or the bereaved families of casualties of Nuri helicopter crashes, who must bear a life-long doubt whether their loved ones would still be alive if the authorities concerned had fully discharged their duties to ensure that the Nuri helicopters were fully safe and air-worthy.
When eleven RMAF lives were lost in two RMAF Nuri helicopter crashes in Sabah in March 1997, DAP had called for the most thorough inquiry into the airworthiness of all Nuri helicopters.
I had asked at the time if the Nuris were airworthy, why was there such a high rate of Nuri helicopter crashes which had already claimed some 74 lives in 14 air disasters since 1968.
There are now conflicting figures of the total number of lives lost from Nuri helicopter crashes since they were first commissioned 40 years ago in 1968 — with one report accounting for a total of 95 lives lost from Nuri crashes in the past four decades.
The Defence Ministry should release a full report of the total number of Nuri crashes in the past 40 years and the lives lost and the cause in each case.
But what is more important and pressing are two matters:
Firstly, an independent and public inquiry as to whether Najib had been negligent in not ensuring an earlier phasing out of the RMAF Nuri helicopters which would have saved the lives of the six RMAF personnel lost in Friday's Nuri crash at Genting Sampah – as Najib had been Defence Minister since December 1999; and
Secondly, what measures are taken to ensure that there would not be another RMAF life lost because of the lack of airworthiness in the next three years before the complete phasing out of the Nuri helicopters.