Archive for April 4th, 2017
The Inspector-General of Police, Tan Sri Khalid Abu Bakar, has turned the Home Minister, Datuk Seri Zahid Hamidi, who is also the Deputy Prime Minister, into a cypher (dictionary definition – "a person of no influence") on whether the police should ban the Mahathir-Nazri debate to be organized by Sinar Harian at its premises in Shah Alam on Friday.
What is most shocking is that the police ban came within 24 hours of written police consent for the debate.
Not only the majority of Malaysians, but the majority of the police force, cannot accept Khalid's absurd claim that the police are merely exercising their discretionary powers provided under Section 3(3) of the Police Act 1967 in banning the debate between former Prime Minister Tun Dr. Mahathir and Tourism Minister Datuk Seri Nazri Abdul Aziz on grounds of maintaining public order.
Khalid is scraping the bottom of the barrel invoking Section 3(3) of the Police Act, as this section makes no mention that the police enjoys "discretionary powers" to ban the debate. Read the rest of this entry »
I am intrigued by the high-powered and well-orchestrated UMNO/BN demonization campaign against me in the past three months, which appeared to be reaching a climax in the past week.
But I detect something unusual in this UMNO/BN demonization campaign, using a rojak of lies, fake news and false information through UMNO/BN owned and controlled "mainstream media" and the social media to demonise me as a devil, an hantu, puaka or even jembalang; that I am anti-Malay, anti-Islam; that I was the cause of the May 13 racial riots in 1969; that I am a communist; a stooge of Singapore PAP, etc, etc.
Normally, a propaganda campaign starts with light-weight personalities reaching a crescendo with the participation of increasingly heavy-weight figures. But here we see the reverse taking place.
The demonization campaign of the BN Director of Strategic Communications against me started with heavy-artillery salvos from principal UMNO leaders and Ministers but it is in danger of petering out, as seen by deployment of the UMNO Youth deputy chief, Senator Khairul Azman Harun in the UMNO/BN media, New Straits Times and Utusan Malaysia today.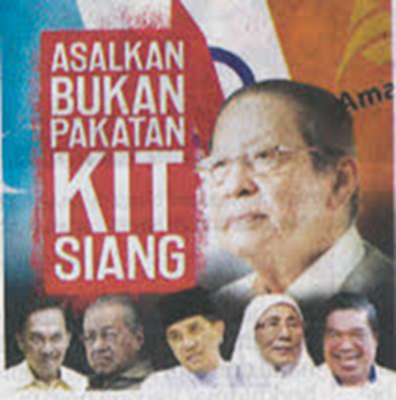 It is quite laughable to see Utusan Malaysia employing a special logo in this demonization campaign against me, with images of myself, Datuk Seri Anwar Ibrahim, Tun Dr. Mahathir, Datuk Seri Azmin Ali, Datuk Seri Dr. Wan Azizah Wan Ismail, Mohd Sabu and the wordings in a red-boxed caption "ASALKAN BUKAN PAKATAN KIT SIANG", but somehow, the demonization campaign is unable to enlist personalities of heavier political weight to join in but have to make do with persons of lesser political weight like a UMNO Youth deputy leader.
Read the rest of this entry »