I am intrigued by the high-powered and well-orchestrated UMNO/BN demonization campaign against me in the past three months, which appeared to be reaching a climax in the past week.
But I detect something unusual in this UMNO/BN demonization campaign, using a rojak of lies, fake news and false information through UMNO/BN owned and controlled "mainstream media" and the social media to demonise me as a devil, an hantu, puaka or even jembalang; that I am anti-Malay, anti-Islam; that I was the cause of the May 13 racial riots in 1969; that I am a communist; a stooge of Singapore PAP, etc, etc.
Normally, a propaganda campaign starts with light-weight personalities reaching a crescendo with the participation of increasingly heavy-weight figures. But here we see the reverse taking place.
The demonization campaign of the BN Director of Strategic Communications against me started with heavy-artillery salvos from principal UMNO leaders and Ministers but it is in danger of petering out, as seen by deployment of the UMNO Youth deputy chief, Senator Khairul Azman Harun in the UMNO/BN media, New Straits Times and Utusan Malaysia today.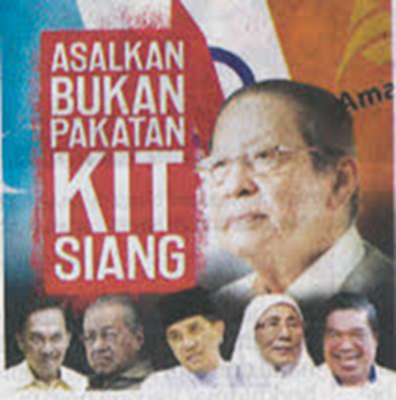 It is quite laughable to see Utusan Malaysia employing a special logo in this demonization campaign against me, with images of myself, Datuk Seri Anwar Ibrahim, Tun Dr. Mahathir, Datuk Seri Azmin Ali, Datuk Seri Dr. Wan Azizah Wan Ismail, Mohd Sabu and the wordings in a red-boxed caption "ASALKAN BUKAN PAKATAN KIT SIANG", but somehow, the demonization campaign is unable to enlist personalities of heavier political weight to join in but have to make do with persons of lesser political weight like a UMNO Youth deputy leader.

The Utusan Malaysia logo "ASAKAN BUKAN PAKATAN KIT SIANG" is part of the UMNO/BN demonization against me, suggesting that Pakatan Harapan is an "Ali Baba" arrangement, with me as the "master" and the others, including Tun Mahathir, Anwar Ibrahim, Wan Azizah, Azmin Ali and Mohd Sabu merely my stooges or puppets.
Here I want to make a public appeal to Utusan Malaysia and the UMNO leaders – don't insult or run down their own Malay race by suggesting that top Malay leaders who had been Prime Ministers or Deputy Prime Ministers, Presidents or Deputy Presidents of UMNO, are men of such low moral character and caliber as capable of becoming puppets or stooges after stepping down from their former positions!
I had previously worked with former Prime Ministers Tunku Abdul Rahman and Tun Hussein Onn when they were no more Prime Minister and UMNO President.
Were Tunku and Hussein my stooges or puppets and should their pictures be included in the Utusan Malaysia logo "ASALKAN BUKAN PAKATAN KIT SIANG" to join the company of Mahathir, Anwar, Azizah, Azmin and Mohd Sabu?
Are the present UMNO leaders and the Utusan Malaysia suggesting that the current Prime Minister and Deputy Prime Minister, UMNO President, Deputy President, Vice Presidents and UMNO Ministers and leaders all could become stooges and puppets of other people tomorrow when they are no more in their present power and position?
Clearly, I have more respect for the Malay race than the present UMNO Ministers and leaders.
I appeal to the UMNO Ministers and leaders not to insult their own race in this fashion.
They can disagree with their former UMNO Presidents and Deputy Presidents, but they should not malign their character as if UMNO leaders, once they relinquish their positions, become morally worthless characters.
While Mahathir is being accused of being my stooge and puppet, an opposite campaign of lies and falsehoods are proceeding on the Chinese ground where MCA propagandists spread lies, fake news and false information that I have become Mahathir's puppet and stooge.
Mahathir and I are not stooge or puppet of the other, as we are honourable and self-respecting leaders who are co-operating in a common cause to save Malaysia from the curse, ignominy and infamy of being regarded world-wide as a global kleptocracy – which if not addressed, will result in Malaysia becoming a failed and rogue state.
Mahathir and I are acting as Malaysian patriots to join forces to save Malaysia from degenerating into a political and economic basket-case, and although Mahathir is much older than me coming to 92 years old, I am not young at 76, we both have no agendas for personal advancement in our common patriotic cause to Save Malaysia from global kleptocracy.
The BN Director of Strategic Communications has amassed quite a low-quality army of propagandists, who have either fired "blanks" or bullets which boomerang on the UMNO leadership.
Nobody believes that Pakatan Harapan is a "Ali Baba" organization, but there is no doubt that Malaysians are convinced that Najib is responsible for creating the biggest and most sinister "Ali Baba" partnership in Malaysia – the "Najib-Jho Low" Ali-Baba axis – which catapulted Malaysia to a global kleptocracy with the largest world-wide 1MDB financial scandal in recent times.
Jho Low has become an international kleptocratic fugitive from justice for quite some time.
Let me ask the Prime Minister and UMNO President, Datuk Seri Najib Razak a simple and straightforward question: How many times have Najib met Jho Low, where and when, after the 13th General Election and did the Prime Minister meet Jho Low during his last official visit to China?
And what did they discuss during their meetings after the 13th General Election on May 5, 2013, when Jho Low was totally rebuffed and repudiated by the people of Penang despite spending ten of millions of ringgit to topple Lim Guan Eng as Penang Chief Minister and the DAP-led Penang State Government!
Or dare Najib declare that he had never met Jho Low after the 13th General Elections in 2013?
Can Malaysians expect the BN Director of Strategic Communications to ask the Prime Minister this question instead of indulging in a demonization campaign in pursuit of "strategic lies"?