By P. Gunasegaram | Kinibiz
DECEMBER 19, 2015 10:30AM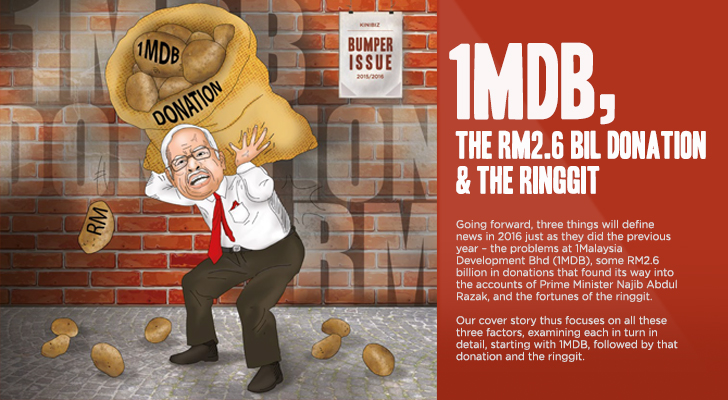 First, it was a JV, and some US$700 million out of US$1 billion initial capital ended up in an unrelated company linked to Jho Low. And then it became a loan, and then it became an equity stake and an option which was subsequently sold and invested, over RM7 billion, in the Cayman Islands and redeemed. As much as RM4.2 billion could have gone into extinguishing an option. The rest is still somewhere out there.
________________________________________________________________________
The first major investment that 1Malaysia Development Bhd (1MDB) made – an injection of US$1 billion into a joint venture (JV) with PetroSaudi Holdings (Cayman) Ltd, 1MDB-PetroSaudi Ltd – ended in tragedy as US$700 million was immediately siphoned off to a company allegedly related to Jho Low, Good Star Ltd.
Basically, 1MDB injected US$1 billion cash into the JV but PetroSaudi's share was an asset dubiously valued at US$1.5 billion. The valuation report was presented on the day the valuer was appointed.
While 1MDB was supposed to have injected the US$1 billion into the JV, the JV inexplicably received just US$300 million, with the remaining US$700 million being transferred to a company which was totally unrelated to the JV. Leaked emails indicate that the company, Good Star Ltd, was related to Jho Low.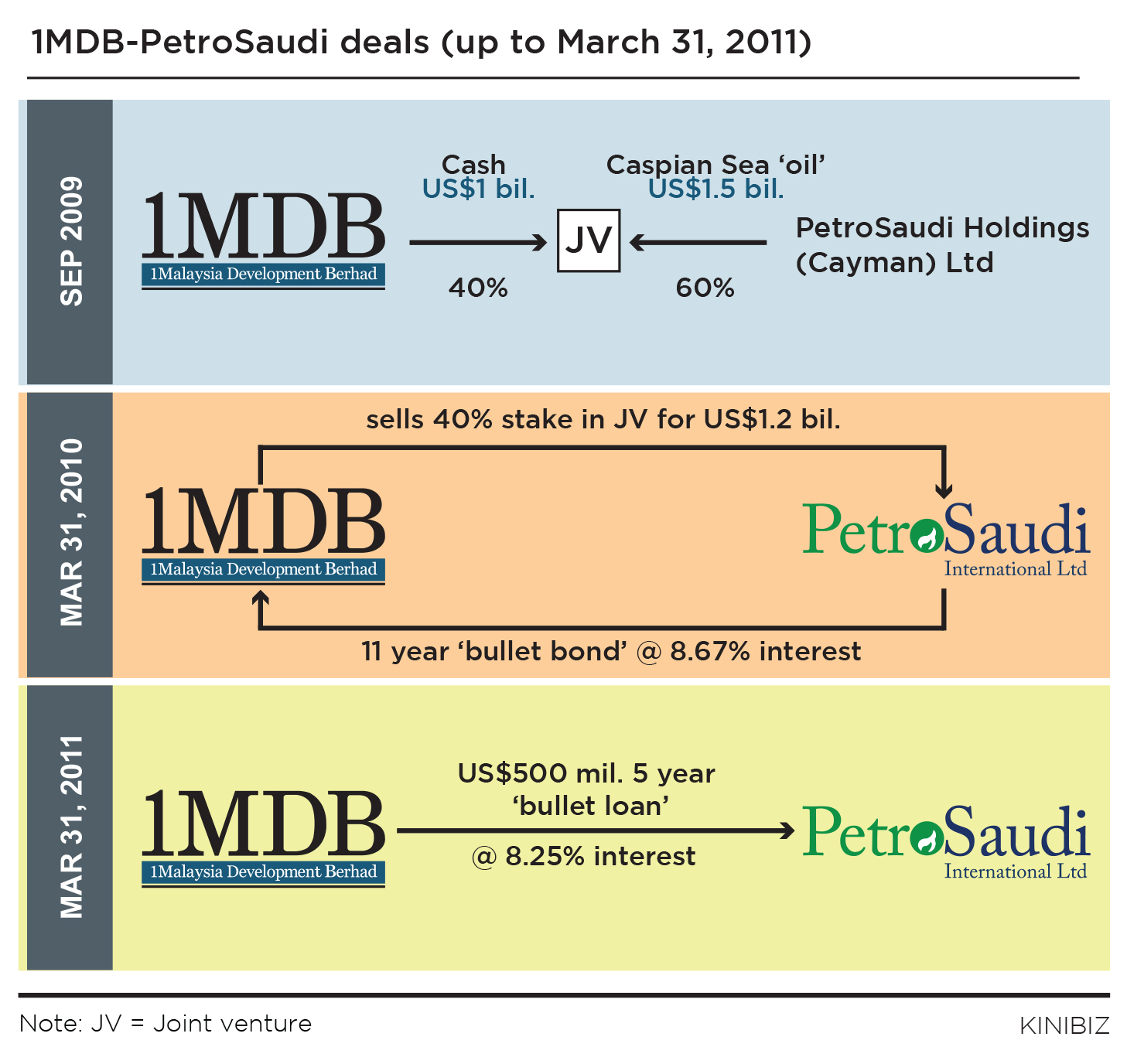 This was one of the most shocking revelations about 1MDB and although it happened way back in 2009, some six years ago, this was revealed in reports only this year.
Sources say the 1MDB board was extremely unhappy with this then and instructed the management to get the US$700 million back but this was not done. Two board members, Mohd Bakke Salleh and Azlan Mohd Zainol, resigned because of this, the former in October 2009 and the latter in January 2010.
For the first three years of its life since 2009, 1MDB's sorry role was to put money into the JV and fund PetroSaudi. As at end of Mar 31, 2012, its financial year-end, 87 sen of every ringgit borrowed of RM7.9 billion, or some RM6.9 billion, went into the JV.
The charts indicate the money trail involving the JV.
First, in September 2009, 1MDB invested US$1 billion for a 40% stake in a joint venture with PetroSaudi. PetroSaudi injected no cash, putting in a Caspian Sea oil reserve at US$1.5 billion as its share.
But for some reason that was never explained, on March 31, 2010 (the last day of its financial year) it "sold" its stake in the joint venture back to PetroSaudi for US$1.2 billion, making a profit of US$200 million which it booked. But it did not get cash for it. Instead, PetroSaudi issued an 11-year bullet repayment Islamic murabaha carrying an interest rate of 8.67% to 1MDB.
Not only that, barely a year later at its next financial year-end, on Mar 31, 2011, it had extended a further US$500 million via a five-year bullet repayment loan to PetroSaudi. And then exactly a year later, it extended yet another loan of US$330 million to PetroSaudi, making in all a grand total of RM6.8 billion equivalent at that time, using various exchange rates prevailing.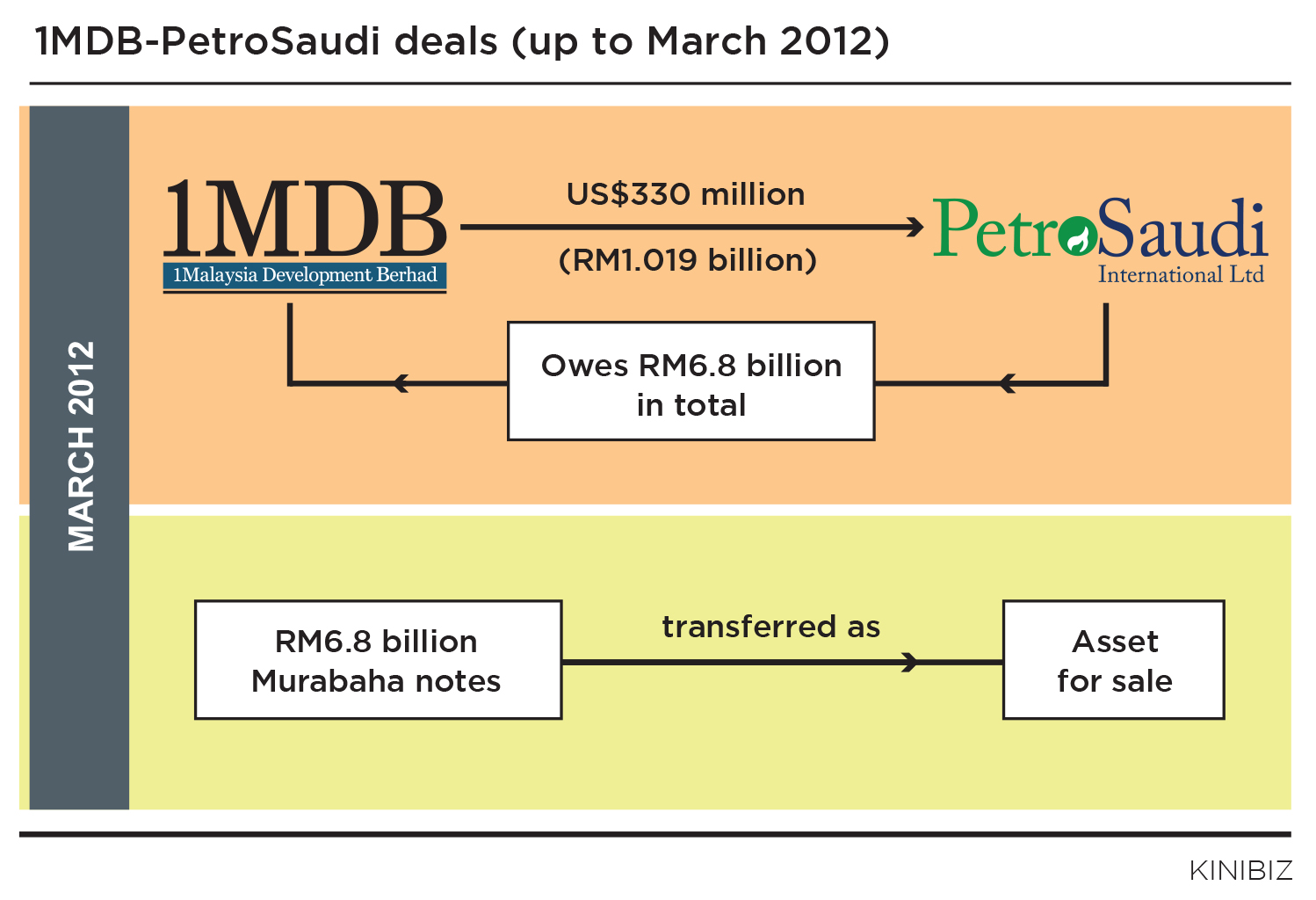 According to notes on "subsequent events" in the annual report for the year ended Mar 2012, PetroSaudi on June 1 that year redeemed the outstanding notes of RM6.8 billion, including profits. Yes, you might have guessed it, it received no cash – it was via yet another asset swap.
For the RM6.8 billion, 1MDB this time accepted a 49% stake in PetroSaudi Oil Services Ltd and a put and call option to buy the remaining portion at an option price of US$10, with options being exercisable any time up to its maturity on Dec 31, 2015. It did not say what kind of a company this was.
That means 1MDB injected money for an asset, sold it to PetroSaudi for debt notes, bought more notes from PetroSaudi, very suspiciously each time at balance sheet date when interest payment would be due, and then accepted assets again for settlement of the loan.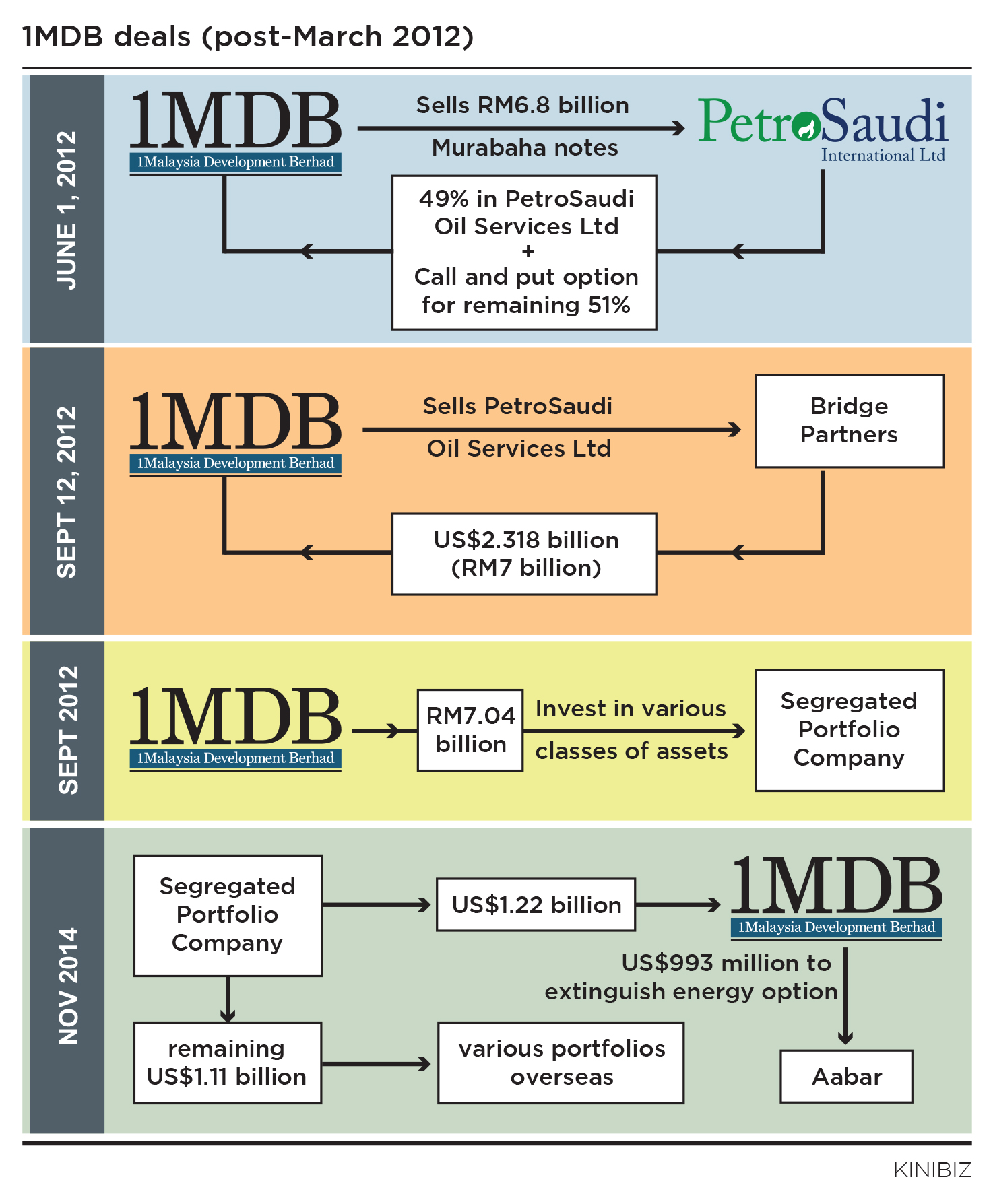 Finally, on 12 Sept 2012 less than three months later, 1MDB sold the 49% stake in its latest acquisition to "an external party" for a "consideration" of US$2.318 billion, which works out to just under RM7 billion at exchange rates then. It sold off more than 70% of its assets but it did not say who the external party was that it sold it to.
Subsequent leaked emails show that this was sold to Bridge Partners International Investment Ltd which issued promissory notes for US$2.32 billion.
And if one thought that we can heave a sigh of relief that the money is finally coming back to Malaysia, no, that was not to be. "The total consideration arising from the disposal was reinvested in various classes of participating shares in a Segregated Portfolio Company, registered in Cayman Island," the notes in the annual accounts said.
More recent leaked emails indicate and other sources reveal that 1MDB received US$1.22 billion out of the US$2.32 billion in November 2014. A big part of this, US$993 billion (RM4.2 billion at current exchange rates), was used to extinguish an option granted to Aabar Investment PJS, a company linked to Abu Dhabi.
This option was granted to Aabar in relation to participation in a 49% stake in 1MDB's energy assets. The question that immediately arises is why pay over RM4 billion to extinguish an option on assets which were sold recently for just RM9.83 billion.
In case you are wondering, the remaining US$1.11 billion is somewhere out there in various portfolio investments outside the country. Will it be recovered? Time will tell, and time is likely to be very unforgiving as far as 1MDB is concerned.
Yesterday: How 1MDB overpaid Goldman Sachs
Tomorrow: How 1MDB overpaid for its power assets