Archive for December 24th, 2015
2015 Christmas Message in Kuala Lumpur on Thursday, 24th December 2015
Christmas Day tomorrow in 2015 is especially significant as today is the birthday of Prophet Muhammad on Maulid-ar-Rasul, an overlapping which underlines religious diversity both in Malaysia and the world.
I am reminded of two events, the first the Monday incident in Mandera in northeast Kenya where Muslims protected Christians in a bus attack by Somali Islamist terrorists, telling the terrorists, "You'll have to kill us all" and other, the January 2013 Thaipusam visit by the then PAS Mursyidul Am and Kelantan Mentri Besar, Datuk Nik Aziz Nik Mat to the DAP National Chairman and MP for Bukit Gelugor, Karpal Singh in the latter's Penang home where Nik Aziz's 82nd birthday was also celebrated.
Let Malaysians regardless of race, religion and region be inspired by both these events, in particular the example of the two great Malaysian leaders, Nik Aziz and Karpal Singh, to promote harmony, goodwill, tolerance across race, religion and culture so that Malaysia can be a model of peaceful multi-religious diversity for the world. Read the rest of this entry »
BY P. GUNASEGARAM | Kinibiz
DECEMBER 14, 2015 8:00AM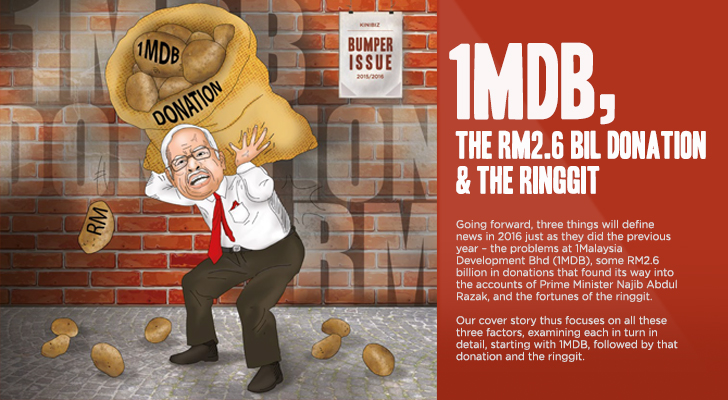 The very setting up of 1MDB and its operations was aimed at spinning billions out of this self-styled strategic development company owned by the government for the benefit of various others. The eventual cost of this to the country might be as high as RM42 billion.
___
[Note to readers: This article and the associated charts provide an overview map of our coverage of 1MDB, and attempt to link the various parts to the whole. The information for the series is obtained from various sources both public and private and includes reported content elsewhere and others from our own sources, which we believe to be accurate. Figures have been rounded off where it makes things clearer.]
Even before it became 1Malaysia Development Bhd (1MDB), it was mired in controversy as Terengganu Investment Authority (TIA) in 2009, Terengganu's very own sovereign wealth fund. TIA was to be kickstarted with a RM5 billion bond issue guaranteed by the federal government.
Read the rest of this entry »
The National Security Council (NSC) Bill is the greatest security disservice to Malaysia by the Najib premiership, as instead of uniting Parliament and the nation with a single-minded purpose to defeat the threat of ISIS terrorists, it has divided the country with an unprecedented unconstitutional grab for power by the Prime Minister.
After the shot-gun passage of the NSC Bill in the Dewan Rakyat on Dec. 3 as if "a thief in the night" without proper prior notice or consultation with MPs and the civil society, the country was assured that the NSC bill is aimed primarily at fighting terrorism particularly the threat posed by ISIS, and not intended to usurp the constitutional powers of the Yang di Pertuan Agong in declaring a state of emergency for country.
If the NSC Bill was designed primarily to deal with the threat of terrorism posed by ISIS, the logical thing to do is to park the proposed National Security Council under the Prevention of Terrorism Act (POTA) instead of creating a new executive body which is even more powerful than the Cabinet with far-reaching and new-fangled powers. Read the rest of this entry »