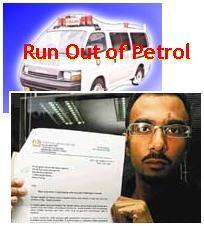 With the latest scandal of ambulances running out of petrol resulting in another avoidable death, the Health Minister, Datuk Dr. Chua Soi Lek should inform Parliament tomorrow what shake-up he had initiated to end the mounting public criticism of outrageous ambulance emergency services and response time to give top priority to saving lives.
Friday's New Straits Times reported the scandal-cum-tragedy of Yusnita Abas, 31, wife of a factory worker, Ghafur Mohd Ibrahim who said his wife would be alive today had she received prompt medical treatment, including efficient ambulance service.
Although on the fateful day, she went to the Kepala Batas Hospital at 1 pm after being advised by a private doctor, she was not attended to until she lapsed into a semi-consciousness state around 6 pm.
Doctors later realized that Yusnita was suffering from a ruptured blood vessel and ordered that she undergo a CT scan at the Seberang Jaya Hospital. Ghafur was told that that Yusnita would have to undergo emergency surgery at the Penang Hospital if the CT scan showed there was a blood clot in her brain.
This is Ghafur's harrowing tale:
It was later confirmed that there was a blood clot, but the ambulance that had rushed his wife to the Seberang Jaya Hospital was unable to take her to the Penang Hospital.

The driver said the ambulance was in a bad condition and he needed to take another one from the Kepala Batas Hospital, so they drove back.

When they reached the hospital, they were told that all the ambulances were out of petrol.

It was close to 10pm by the time the problem was sorted out, and they only managed to take his wife to the Penang Hospital about 10.45pm.

His wife was pronounced brain dead by the time they arrived at the Penang Hospital. Yusnita died two days later.

The doctor told Ghafur that his wife could have been saved had she been brought in for surgery earlier.
The second question during Parliamentary Question Time tomorrow is one asking the Health Minister the number of deaths in the country which had occurred in ambulances while enroute to hospitals.
Chua should explain how could such an outrageous and scandalous situation arise where all the ambulances at a hospital had run out of petrol as to cause an avoidable death.
In this connection, Chua should also inform Parliament why he was happy with 30-minute response time for hospital ambulances, when the Health Ministry's director-general Tan Sri Dr. Ismail Merican had said that any ambulance response time that was longer than 15 minutes was unacceptable.
Chua had given this response following public criticism over businesswoman Zara Davies Abdul Rahman's traumatic experience in trying to get accident and emergency help from Hospital Tengku Ampuan Rahimah Klang to save an accident victim's life near the Batu Tiga toll booth on Dec. 13 last year, but in vain.