Archive for September 8th, 2017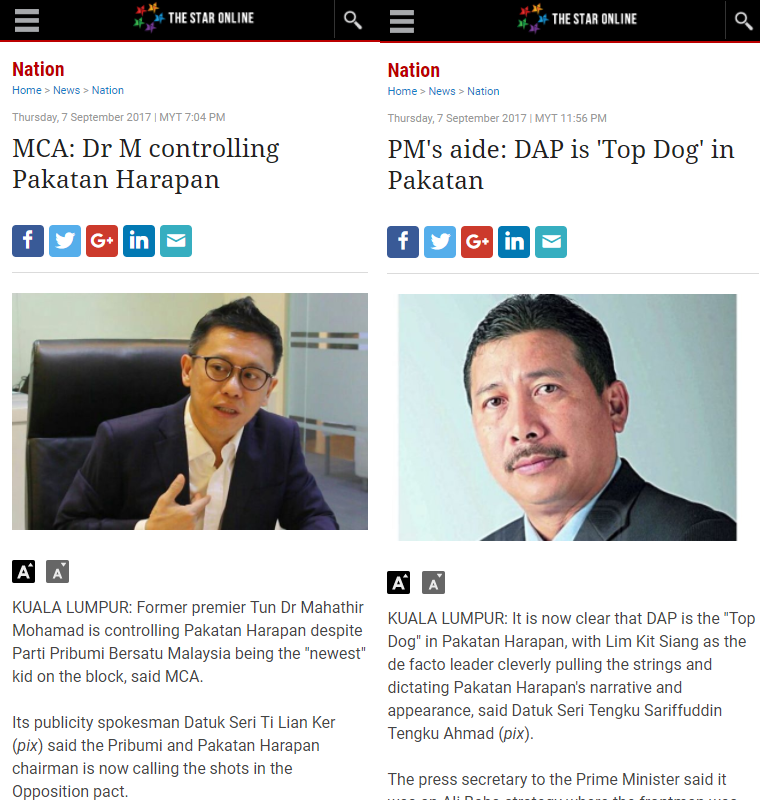 MCA's Star Online carried two reports yesterday: "PM's aide: DAP is 'Top Dog' in Pakatan" and "MCA: Dr M controlling Pakatan Harapan".
Which is which?
The timeline for the first report was 11.56 pm yesterday while the time-line for the second report was 7.04 pm.
In the "PM's aide: DAP is 'Top Dog' in Pakatan", the press secretary to the Prime Minister, Datuk Seri Tengku Sariffuddin Tengku Ahmad was quoted as saying that I am the "de facto leader cleverly pulling the strings and dictating Pakatan Harapan's narrative and appearance" while in the report "MCA: Dr M controlling Pakatan Harapan", the MCA publicity spokesman Datuk Seri Ti Lian Ker was quoted as saying that former premier Tun Dr. Mahathir Mohamad is controlling Pakatan Haran despite Parti Pribumi Bersatu Malaysia being the "newest" kid on the block and "calling the shots in the Opposition pact".
Read the rest of this entry »