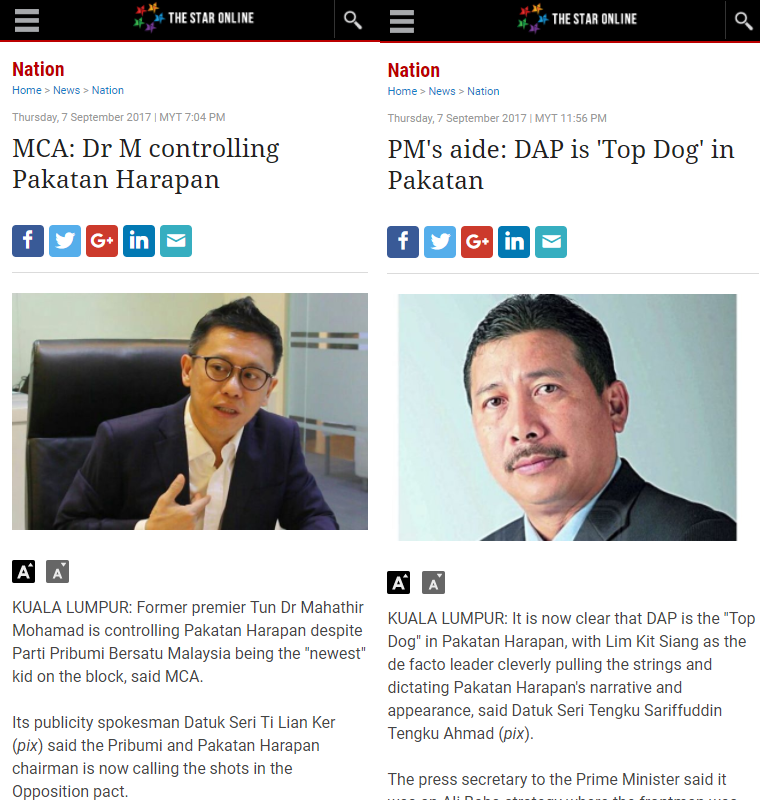 MCA's Star Online carried two reports yesterday: "PM's aide: DAP is 'Top Dog' in Pakatan" and "MCA: Dr M controlling Pakatan Harapan".
Which is which?
The timeline for the first report was 11.56 pm yesterday while the time-line for the second report was 7.04 pm.
In the "PM's aide: DAP is 'Top Dog' in Pakatan", the press secretary to the Prime Minister, Datuk Seri Tengku Sariffuddin Tengku Ahmad was quoted as saying that I am the "de facto leader cleverly pulling the strings and dictating Pakatan Harapan's narrative and appearance" while in the report "MCA: Dr M controlling Pakatan Harapan", the MCA publicity spokesman Datuk Seri Ti Lian Ker was quoted as saying that former premier Tun Dr. Mahathir Mohamad is controlling Pakatan Haran despite Parti Pribumi Bersatu Malaysia being the "newest" kid on the block and "calling the shots in the Opposition pact".

The MCA publicity spokesman said the "top dog and the boss" in Pakatan Harapan is Dr. Mahathir. "He is calling all the shots in the Opposition now."
Is there a better example to illustrate the schizophrenia in Barisan Nasional, with UMNO and MCA declaring the very opposite in public?
It would be fun and most amusing if this schizophrenia highlights a very harmless split personality in the Barisan Nasional coalition, but it is positively harmful and dangerous to Malaysian nation-building when it reflects rank racism and unprincipled opportunism of UMNO and MCA in the nation-building process in plural Malaysia.
UMNO leaders and propagandists are trying to incite Malay communalism and hatred by disseminating the lie that Mahathir and other Malay leaders like Tan Sri Muhyhiddin Yassin, Datuk Seri Anwar Ibrahim, Datuk Seri Dr. Wan Azizah Wan Ismail, Datuk Seri Mohd Azmin Ali, Nural Izzah, Rafizi Ramli and Mohamad Sabu are just my stooges and puppets; while MCA is trying to stir up Chinese racialism and chauvinism by accusing me as a stooge and puppet of Mahathir – or the former stooge and puppet of Anwar.
Are UMNO and MCA leaders committed to build a Malaysian nation where all citizens share in the ownership of the country regardless of race, religion or region or are they trying to isolate the difference races into their separate communal compartments?
Where is Bangsa Malaysia concept of Vision 2020 or the 1Malaysia concept when Datuk Seri Najib Razak became Prime Minister in 2009?
I went to detention under the Internal Security Act, was hauled to court for defending the best interests of Malaysians and future generations; my son Lim Guan Eng was detained under the ISA, imprisoned and disqualified as a Member of Parliament for defending the honour and dignity of an underaged Malay girl – and we stood our ground without compromise even in the 22 years when Mahathir was the Prime Minister of Malaysia.
Why should I be Mahathir's puppet or stooge now?
Similarly, at the advanced age of 92 and after 22 years as Prime Minister of Malaysia, why should Mahathir be my stooge and puppet?
People with the minimum of grey matter will know that this is not possible – Mahathir as my stooge or I becoming Mahahtir's puppet.
Despite our great differences in the past, we have come together with the common objective, to save Malaysia from hurtling towards the trajectory of a failed and a rogue state.
Within a few years under Najib's premiership, Malaysia has already become a global kleptocracy – something which the first five Prime Ministers of Malaysia, Tunku Abdul Rahman, Tun Razak, Tun Hussein, Tun Mahathir and Tun Abdullah would have thought totally impossible in the first five decades of the nation.
We have been overtaken by South Korea and Taiwan and in danger of losing out to Vietnam, Thailand and even Indonesia if Malaysians do not unite and save Malaysia and reset nation building directions and policies.
Malaysian patriots have abandoned UMNO and Barisan Nasional. They are only to be found in Pakatan Harapan.