Archive for March 15th, 2016
Many questions have been asked following the 304 Citizens' Declaration (March 4) signed and proclaimed by 45 political and civil society leaders, including the country's longest-serving former Prime Minister, Tun Mahathir, former Deputy Prime Minister, Tan Sri Muhyiddin Yassin, former Cabinet Ministers and former UMNO stalwarts crossing the political divide in bringing together DAP, PKR and Parti Amanah Negara leaders in their personal capacities.
Some of these questions include:
• Who will be the Prime Minister after Najib?

• Is Mahathir the puppet of Lim Kit Siang or Lim Kit Siang the puppet of Mahathir?

• Will Mahathir or Kit Siang benefit most from the Citizens' Declaration?

• Will the Citizens' Declaration be UMNO's salvation?

• Is there a guarantee of success in the Citizens' Declaration and Save Malaysia campaign?
There are no sure and clear answers to the teeming questions thrown up by the unprecedented and historic Citizens' Declaration, but there are certain facts that should be put straight. Read the rest of this entry »
By Martin Jalleh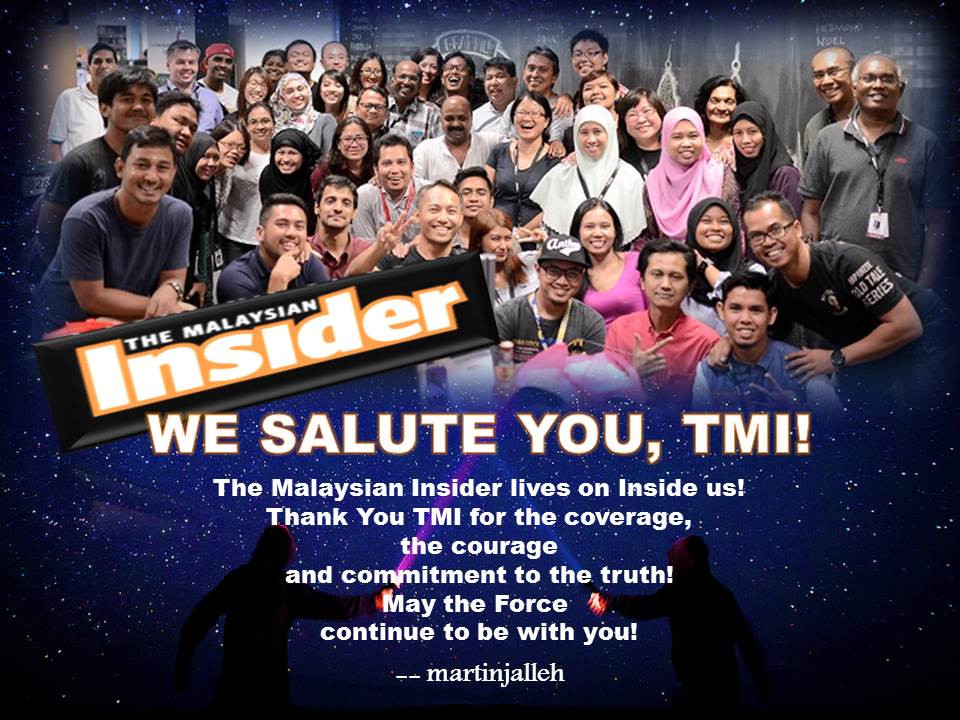 Jahabar Sadiq
Malaysiakini
14 Mar 2016
COMMENT | The Malaysian Insider shuts down tonight. No words can adequately express the entire spectrum of feelings I have for this moment, and all the moments since late 2007 when a few of us thought of setting up a news portal.
I was in Reuters Television then, and had signed a contract to work in Jakarta as a senior producer. It would be good to look at Malaysia from afar, after having spent a decade as a television producer in Malaysia.
The job was never just about Malaysia, as it involved the region.
To cut a long story short, I came back in 2010 to run The Malaysian Insider and take care of my parents. and It has been a roller coaster ride focussed just on Malaysia.
There were no more exotic locales or tales from the wild side, I thought. This is Malaysia, easy enough to cover with predictable storylines. But Malaysia was changing and I had to keep up with the changes too. Read the rest of this entry »