Archive for January 7th, 2016
By Murray Hunter
Asia Sentinel

January 6, 2016

Mismanagement, waste, and corruption in public universities
Malaysia's public universities have dropped completely out of the World University Rankings maintained by the Times of London. Universiti Kebangsaan Malaysia was ranked 87th in the top 100 Asian rankings in 2013, but has since fallen out. Not a single Malaysian university made the top 100 Asian rankings.
The collapse of higher education in Malaysia has grown so marked that World Bank economist Dr Frederico Gil Sander recently said the state of the system is more alarming than the country's considerable public debt. The talent needed to develop the Malaysian economy is not being produced.
It isn't just the Times survey. Malaysian public universities have also shown mixed results in other surveys like the QS rankings,where three Malaysian universities rose slightly while Universiti Teknologi Malaysia, Universiti Kebangsaan Malaysia, International Islamic Universiti Malaysia, and Universiti Teknologi MARA, all slipped. Not a single Malaysian university made the top 100, According to the QS ranking profiles, Malaysian universities have lost significant ground in academic reputation and tend to be weak in research, with no Malaysian university even reaching the top 400.
Public Universities Vice-Chancellor/Rector Committee chairman Kamarudin Hussin, also vice chancellor of Universiti Malaysia Perlis (Unimap) claims that the ranking methodologies favor older, more established universities. Yet many universities within the top 100 Asian universities were established relatively recently. Hong Kong University of Science and Technology, ranked 7th was established in 1980, Nanyang Technological University, ranked 10th was set up in 1981, and Pohang University of Science and Technology, ranked 11th, was established in 1986. Read the rest of this entry »
I want first to thank the DAP Assemblywoman for Senai, Wong Shu Qi for a new translation and bringing out this new Chinese edition of "Time Bombs in Malaysia", a collection of my speeches in Parliament during my first two terms as Member of Parliament from 1971 – 1978.
I am reminded of the first day of the resumed Parliament on Feb. 23, 1971, when Members of Parliament convened for the first time after a 21-month suspension of Parliament and National Operations Council (NOC) Emergency rule after the May 13 racial riots of 1969, under the grave threat that Parliament will be closed down and Members of Parliament sent home if they failed to accomplish the first task expected of them – to amend the Malaysian Constitution to entrench four issues as "sensitive" issues which could not be questioned on pain of conviction for sedition and the removal of the parliamentary immunity of MPs with regard to these entrenched "sensitive issues" even in parliamentary debates.
In fact, a few days before MPs met, the UMNO Youth leader at the time warned that UMNO Youth would surround Parliament until MPs approved the Constitution Amendment Bill.
During the debate on the Constitution Amendment Bill in Parliament, there was palpable electricity in the air, with government MPs walking around with bulges in the pocket, signifying the least pacific intentions.
However, the 13 elected DAP MPs were not so easily browbeaten and we stood up for the people's rights and made it clear that DAP MPs were not elected into Parliament to be "yes-men" to surrender their principles or betray the trust and confidence of the electorate. Read the rest of this entry »
BY ZULKIFLI SULONG, FEATURES AND ANALYSIS EDITOR | The Malaysian Insider
Published: 7 January 2016 6:59 AM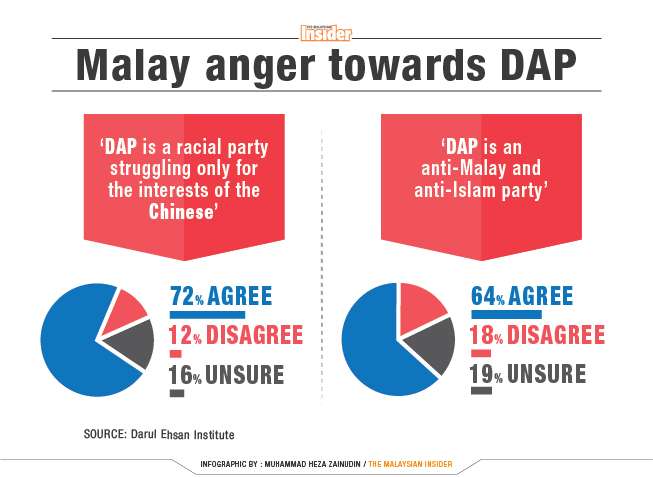 Anger towards DAP among Malay Muslims, especially in rural areas, has increased due to Umno's consistent campaign to demonise the Chinese-dominated party, even as it recruits more Malay members and leaders, says a think tank.
The animosity intensified after the break-up of the Pakatan Rakyat coalition in June, when DAP parted ways with former ally PAS, the country's second largest party of Malay Muslims.
With Umno and PAS starting to work together, the anti-DAP campaign is becoming more effective as both Malay parties use religion to attack it, said the Darul Ehsan Institute (IDE).
Read the rest of this entry »