Archive for January, 2015
UMNO leaders launched a two-prong attack on the DAP to exploit PAS President, Datuk Seri Abdul Hadi Awang's "May 13 if third vote restored" statement, including a vicious campaign of lies and demonization on social media against DAP leaders by UMNO cybertroopers.
In past few weeks, my twitter account had been spared twitter bombs by UMNO cybertroopers, but in the last few days after Hadi's statement, it became the target of several series of twitter bomb attacks, through trolls and fake multiple accounts, spreading lies and defamatory messages and graphics.
One theme of the twitter-bombing was to accuse me of being the cause of the May 13 race riots in Kuala Lumpur, such as the tweet "TAHUKAH ANDA? @limkitsiang adalah pencetus Rusuhan Kaum 13 Mei.. #DAPRasis #S14".
Another was the defamatory graphic depicting me as a communist in the garb of Mao Tse Tung, with the quote and caption: "'MELAYU KELUAR! APA LAGI DUDUK SINI, KITA HENTAM LU, SEKARANG KITA SUDAH ADA KUASA" LIM KIT SIANG (BAPA 13 MEI)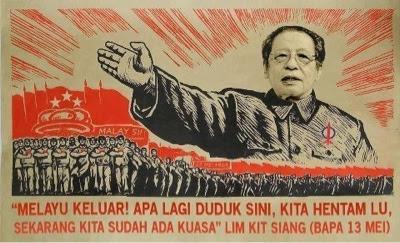 Read the rest of this entry »