Malaysiakini | 4:40PM Jan 16, 2014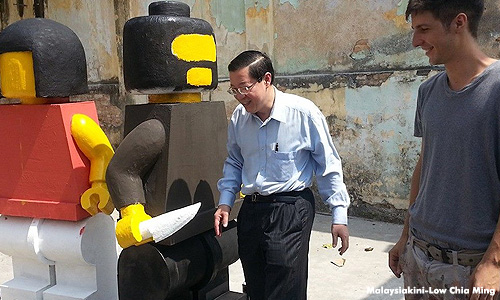 Despite sitting on the hot seat as Penang's chief minister since 2008, Lim Guan Eng said, "Life is meant to be fun."
Lim said the most important thing for an artist is to have its critics and the public to participate in his or her art and "have fun".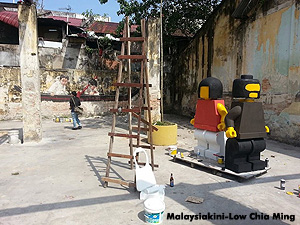 "That is what makes art meaningful," he said at a press conference to support Lithunian artist Ernest Zachaveric's solo show 'Art is Rubbish/Rubbish is Art' tomorrow.
"Even in serious works, the basic essence is to have fun. So don't take life so seriously. We can take a different view. Life is meant to be fun," Lim said, obviously in a good mood.

"We come not only to celebrate art but also Penangites and those who are proud of Penang,"
Lim said Zachaveric is proud of Penang and want to give something back to the state so that arts and culture can bloom here.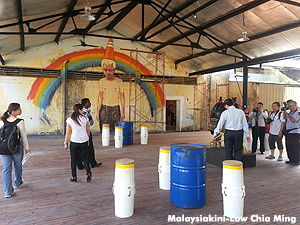 "He is doing this at a very nominal rate. He has inspired many artists to come here," the DAP secretary-general said.
"I must say I do not know anything about art. But I am here to learn and I like some of his pieces especially where he depicts body parts as machines. Each one would his or her own favourite," Lim added.
Lim urged others to come forward and showcase their art as Zachaveric had done.
He expressed hope that international artists would make Penang their home someday, as Zachaveric had done.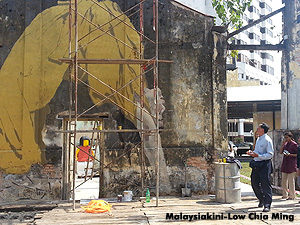 Zacharevic said he is working together with paint company Murobond Paints again to promote the right choice of paint for conservation of buildings, as well as continuing the footprints of the Mirrors George Town Project that brought the famous bicycle mural to life.
He added that he will be using Murobond Paints for all his murals showcased during 'Art is Rubbish/Rubbish is Art'.
Zacharevic is also collaborating with Eastern & Oriental Berhad to unveil the opening of a satellite show held at E&O Hotel's Victory Annexe.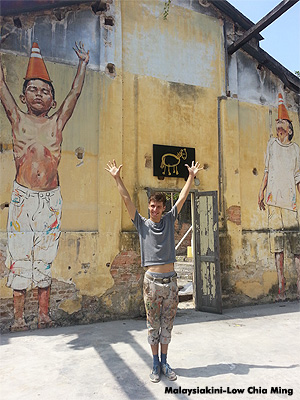 The gallery space will showcase exclusive oil paintings of Penang, sketches and offset prints that will document Zacharevic's deep fascination with the island.
The collaboration will continue with some his most engaging installations from 'Art is Rubbish/Rubbish is Art' pieces adorning the boardwalks of Straits Quay Marina.
With the solo show, Zachaveric will launch an art space in Penang – held at the privately-owned Old Hin Bus Depot along Brick Kiln Roa
The show is open to the public from Friday to Feb 14.