Archive for October 16th, 2012
— Aspan Alias
The Malaysian Insider
Oct 16, 2012
16 OKT — TV3 sedang merudum "rating"nya. TV3 yang termasyhur sebagai lidah Umno dan BN kini sudah mula tidak mendapat sambutan ramai. Sebelum 2010, TV3 telah mendapat "rating" yang tertinggi sehingga mendapat 3.5 juta penonton sehari dan kini jumlah tontonan dari rakyat telah jatuh sehingga 1.2 juta sehari. Kejatuhan bilangan penonton lebih dari 60 peratus ini tentu bersebab dan sebabnya boleh diagak oleh kita semua. Kejatuhan ini akan akhirnya membawa padah kepada pendapatan syarikat dan menjejaskan prestasi kewangan syarikat televisyen itu.
Selalunya kejatuhan penonton sesebuah syarikat penyiaran seperti TV3 itu adalah kerana kejatuhan keyakinan penonton terhadap kredibiliti saluran itu. Dalam sejarah banyak syarikat penyiaran dan saluran TVnya telah jatuh kerana tidak mendapat sokongan ramai. Keadaan ini tidak mengecualikan TV3 yang kini sudah menampakkan keadaan seperti itu akan berlaku ke atas syarikat televisyen itu.
Kejatuhan penonton yang dialaminya sekarang sudah mula menampakkan apa yang dialami oleh banyak syarikat TV yang terpaksa ditutup di negara-negara yang lain itu akan berlaku ke atas TV3 jika saluran televisyen itu tidak menjaga kredibilitinya di mata penonton yang sedia ada sekarang.
Ramai di antara pengiklan-pengiklan barangan dan perkhidmatan telah mula memikirkan untuk mengiklankan barangan dan perkhidmatan mereka di saluran-saluran yang lain kerana TV3 tidak menjadi saluran sukaramai rakyat lagi. Kejatuhan jumlah penonton untuk saluran ini masih menurun dan dijangkakan yang ia akan melewati bawah dari 1 juta penonton setiap hari.
Keadaan ini berlaku bukan kerana apa….tetapi kerana TV3 sudah menjadi alat pembohongan BN dan Umno dan rakyat yang berfikiran "professional" tidak menganggap saluran TV3 ini sebagai saluran untuk rakyat. Sikap "tidak professional" TV3 ini menjadi persoalan ramai kerana orang ramai tidak gemar dengan sikap condong yang keterlaluan terhadap sesuatu pihak dalam politik ini adalah tindakan yang dianggap tidak jujur. Read the rest of this entry »
By Martin Jalleh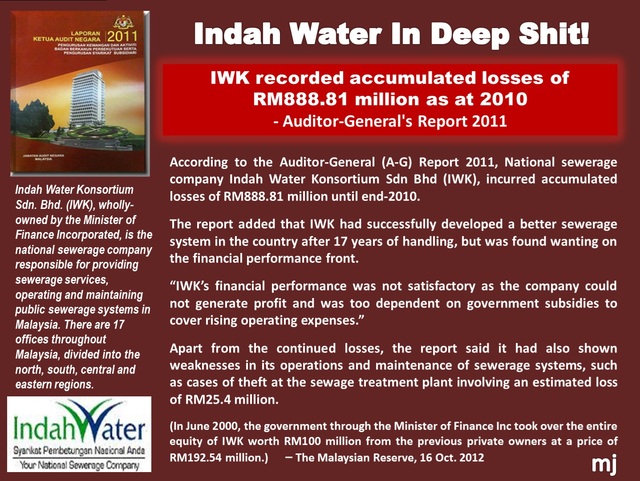 — Ambiga Sreenevasan
The Malaysian Insider
Oct 15, 2012
OCT 15 — Those in the international community may be forgiven for saying, "Is there a problem with the democratic process in Malaysia?"
In the international arena, our leaders portray Malaysia as a moderate Islamic nation that is built on the democratic principles that are enshrined in our Federal Constitution. The fundamental rights of freedom of expression, freedom of association, freedom of assembly, the right to life and a fair electoral process, are indeed guaranteed under our Federal Constitution.
The reality is, however, far less idyllic. There are serious questions whether these rights are respected and upheld by those in power. Read the rest of this entry »