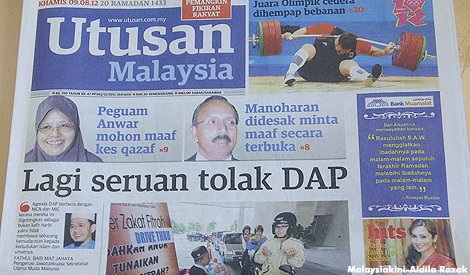 I am really astounded to see the UMNO newspaper, Utusan Malaysia, continuing with its inflammatory, incendiary and seditious front-page headline campaign for the second consecutive day on "Haram Sokong DAP" for it is proof that there are UMNO leaders who have thrown caution and discretion to the winds as they are really desperate about UMNO's ability to win the next general election by free and fair means.
Although Prime Minister Datuk Seri Najib Razak proclaimed 1Malaysia as his signature policy to create a nation where every Malaysian would regard himself or herself as Malaysian first and race, religion, region and class second, UMNO and Barisan Nasional leaders have tried their worst to divide Malaysians along race and religious lines.
MCA for instance had pulled out all stops to panic Malaysian Chinese to reject the DAP on the ground that the DAP is only a pawn of PAS, while UMNO had gone all out to urge Malay voters to reject PAS and PKR because both are stooges of DAP.
It is clear that these UMNO/BN lies, falsehoods and hypocrisies are not working, and Malaysians regardless of race, religion, region, class, age or gender are rallying to the Pakatan Rakyat call for change to create an united, democratic, just, incorrupt, competitive, prosperous and progressive Malaysia that UMNO leaders have decided to plunge for the most divisive, incendiary and seditious racist and religious card with screaming front-page headlines for the second consecutive day in its "Haram Sokong DAP" campaign.

Yesterday, the front-page headline was "Haram Sokong DAP". Today, it is "Lagi Seruan Tolak DAP", even bringing out a state mufti to allegedly support its campaign in alleging that DAP is "kafir harbi".
The DAP stand is clear and unequivocal from the very beginning, that we fully accept and respect the fundamental constitutional provision of Islam as the official religion while other religions can be practiced peacefully anywhere in the country.
The stand that has been taken by the DAP, that Malaysia is a secular state with Islam as the official religion, is the same and consistent with the public positions taken by the first three Prime Ministers of Malaysia, Tunku Abdul Rahman, Tun Razak and Tun Hussein.
Is Utusan Malaysia, the UMNO newspaper, now suggesting that the first three Prime Ministers of Malaysia were enemies of Islam to the extent that the term "kafir harbi" could be used in its seditious campaign to falsely paint DAP as anti-Islam?
Here let me remind the UMNO leaders and Utusan editors what the Turkish Prime Minister Recep Tayyip Erdogan said in Cairo last year: "To Egyptians who view secularism as removing religion from the state, or as an infidel state, I say you are mistaken…It means respect to all religions."
The Utusan Malaysia campaign against the DAP is not only inflammatory and incendiary, but an anti-national and criminal act of sedition, as it falsely accused the DAP as an enemy of Islam and opposing Article 3 of the Malaysian Constitution on Islam as the official religion of the country.
Police reports have been lodged in Penang, Perak and Negri Sembilan today against the Utusan Malaysia for its inflammatory, incendiary and seditious campaign which are calculated to foment racial ill-will, religious hatred as well as undermine national unity.
If this incendiary, inflammatory and seditious Utusan Malaysia campaign is allowed to continue unchecked, then the first casualties will be Najib's 1Malaysia policy slogan and the 55th National Day/49th Malaysia Day celebrations, which will be rendered a completely hollow and meaningless national occasion.