Archive for July 16th, 2011
By Teoh El Sen
July 16, 2011 | Free Malaysia Today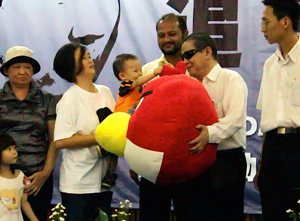 SERI KEMBANGAN: The cute little toddler played and ran about, bringing a tinge of a smile to the crowd of serious-looking adults around him.
Clad in an orange shirt, the 17-month-old Teoh Er Jia's cheerful disposition bore a stark contrast to the tears of his family and the sombre mood of some 400 people who gathered to commemorate the anniversary of his father's death.
Today, marked the second year of Teoh Beng Hock's death.
Last night, a memorial function in his honour was held at the Seri Kembangan multipurpose hall, attended by Teoh's former employer, Selangor exco Ean Yong Hian Wah and other DAP leaders.
Throughout the event, Er Jia was the centre of attention as his mother Soh Cher Wei received praises and support from the people. Read the rest of this entry »