Archive for November 22nd, 2008
Will Datuk Seri Najib Razak call a snap general election at the end of next year or early 2010 to get a full mandate and legitimacy as the sixth Prime Minister and to put behind him all the many serious allegations now hounding and haunting him?
This is an option Najib will have to give serious consideration when he takes over as the sixth Prime Minister next March.
Datuk Seri Abdullah Ahmad Badawi dissolved Parliament in March 2004 four months after taking over the premiership while Tun Dr. Mahathir Mohamad dissolved Parliament in March 1982 eight months after becoming the fourth Prime Minister, both scoring landslide victories in the "first flush" of a new Prime Minister with the 2004 general election victory the most unprecedented.
Will Najib take a leaf from Abdullah and Mahathir and plan for an early snap general election when he takes over as Prime Minister next March, whether end of next year or early 2010?
This is the first strategic decision Najib has to make as Prime Minister, whether to craft a national euphoria when he assumes the premiership and go for early polls whether end-2009 or early 2010 or complete the bulk of the 12th Parliamentary term to hold the 13th general election in 2011 or 2012.
Najib and his core advisers must now be weighing the pros and cons of having early snap polls.
Read the rest of this entry »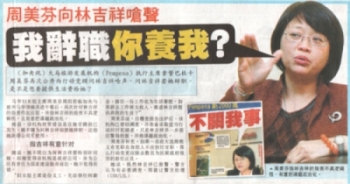 MCA Wanita chief and Pempena Executive Chairman, Datuk Paduka Chew Mei Fun publicly asked me on Thursday whether I will employ and "feed" her if she resigns from Pempena. (Sin Chew Daily, Guang Ming Daily)
My response – Chew should send me her job application with her cv and I will employ her at a salary befitting her real qualifications.
However, Malaysians are amazed at her crass audacity – which is typical of many MCA leaders – that Malaysians owe her a living, and the government must give her a job and "feed" her just because she lost to Tony Pua in the March general election in the Petaling Jaya Utara parliamentary constituency!
If this is the case, then Chew should have been truthful in the March general election campaign and should have owned up publicly that she would be "fed" by the Barisan Nasional government even if she loses in the parliamentary contest against Pua – that she was in an envious "cannot lose" situation, whatever the outcome of the election!
Be that as it may, Chew may be out of her job as Pempena Executive Chairman faster than she think, especially if the Star report "Pempena probe has Azalina fuming" (20.11.98) is to be believed, that the Tourism Minister Datuk Seri Azalina Othman is mulling over whether to shut down the subsidiary of the Tourism Ministry! Read the rest of this entry »
BY: Azly Rahman
"… Because blue and red oceans have always coexisted however, practical reality demands that companies succeed in both oceans and master the strategies for both. But because companies already understand how to compete in red oceans, what they need to learn is how to make the competition irrelevant."
– Kim and Mauborgne, Blue Ocean Strategy, pg. 190

You must be the change you wish to see in the world.
– Mahathma Gandhi
Leaders are fond of discussing management concepts and theories of social change and next, apply them to political paradigms.
They do this within the framework of Structural-Functionalism in which society is seen as a stable entity such as in the case of 'power transfers' and the 'transitions of hegemony'.
Oftentimes political leaders and their opinion leaders, technocrats, intelligentsia, speech-writers, perception managers, and other members of the regime will embrace new ideas to help fine-tune the political economic structure of the old regime and help sustain the base and superstructure of the power arrangements. Read the rest of this entry »