CONTENTS
*******
1 The Key Thrusts of Belanjawan Kesejahteraan 2012
The three key thrusts of Pakatan Rakyat's Budget 2012 are:
Opportunities and Dignity for all Malaysians; and

Sustainability.

Empowering Malaysians
1.1 Opportunities and Dignity for All Malaysians
Behind the façade of the massive, imposing infrastructure projects favoured by the Barisan Nasional government is a much more modest Malaysia. Hundreds of billions have been spent on showcase projects and master plans, but:
40% of Malaysians still live in households earning an average RM1,500 per month1. More than ¾ of these households – 77% – are Bumiputera2;

More than 1/3rd – 35% – of household heads work in the informal sector in jobs such as small traders, hawkers, smallholders and taxi drivers.
Income inequality remains high. The Gini coefficient, a measure of income inequality, is one of the highest in Asia and not far from Latin American levels, notes the World Bank3. On this measure, the disparity among urban Malaysians has not improved in 10 years4.
The extent of income inequality can be easily illustrated:
The bottom 40% of households, of which 77% are Bumiputera, take only 15% of total household income;.
The top 20% of households reap nearly ½ of total household income.
Chart 1: Bottom 40% of households takes only 15% of total income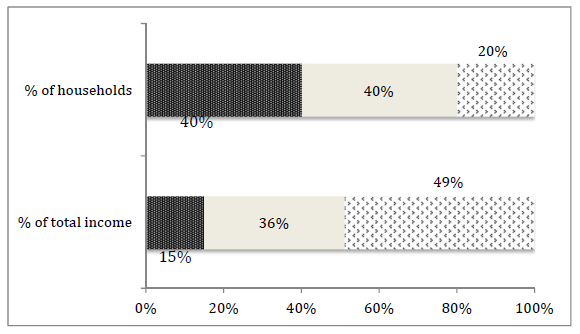 The rise in domestic consumption has been often cited as a source of resilience. Between 2005 and 2009, personal consumption grew at 7.7% per year, faster than GDP at 5.4%.
However, much of personal consumption growth was driven by household debt, which grew by 7.1% in the same period.
While the total RM577 billion household debt as at the end of 2010, equivalent to 77% of GDP may appear modest and manageable, Pakatan Rakyat notes that the rate of its increase is worryingly high:
The ratio has more than doubled in 13 years from 33% in 1997 to 77% in 20105;

By comparison, US household debt to GDP doubled from 44% to 100% in 27 years from 1970 to 2007 when the most severe crisis in recent history struck;
Furthermore, this level of household debt is of concern when viewed against personal disposable income.
This ratio is a better indicator of household debt sustainability because the ability to service debt is directly related to disposable income rather than to GDP;

For this ratio, Malaysia's 140% is far higher than the US at 123%, Singapore at 105% and Thailand at 53%6.
Clearly, debt-driven personal consumption growth is not sustainable. We appear to be hitting the limits of personal consumption growth, going by recent federal government initiatives to increase subsidies and open thrift stores. These alleviate the symptoms of low-incomes and high cost of living, but are not viable long-term solutions.
Productivity, wages and incomes must rise for growth to be sustained. In this light:
Belanjawan Kesejahteraan 2012 focuses on developing Malaysians, not megaprojects and bloated plans;

Belanjawan Kesejahteraan 2012 emphasises skills, productivity, dignified jobs and entrepreneurship, not handouts and goodies for cronies or vested interest groups.
The Pakatan Rakyat government will invest in first-rate education and training; and create a genuinely conducive environment for entrepreneurs:
Improvements in education and training will enhance skills and productivity;

Better skills, productivity and entrepreneurship will result in higher incomes and induce competitiveness;

Higher incomes and competitiveness will give Malaysians the ability and confidence to face the two substantial challenges of today:

The rising cost of living;

The diminishing prospects of exports to rich western countries and the need to find new areas of comparative advantage relative to fellow emerging nations such as China.
1.2 Sustainability
Pakatan Rakyat will implement effective and bold policies to drive sustained quality
growth which is aimed at raising the income of the rakyat enduringly and not fleetingly.
But Pakatan Rakyat's growth policies will give equal weight to initiatives for:
Preventing gross degradation of the environment and our habitat;

Preserving our natural resources from avaricious depletion practices; and

Safeguarding the bounty of our natural endowments by better stewardship of resources for the benefit of future generations of Malaysians.
Attention must be focused mainly on quickly achieving a better measure of
sustainability and balance in public finances at all levels of government. Pakatan Rakyat
is cognisant of the stretched state of Malaysia's public finances after 13 years of
consecutive deficits by the Barisan Nasional government. Thus Belanjawan
Kesejahteraan 2012:
Emphasises maximising the effectiveness of government spending;
Addresses broadening the tax base by stimulating entrepreneurship;
Proposes better stewardship of our oil wealth;
Contemplates efficiency in use of resources such as energy and water; and
Redirects subsidies to those most in need.
1.3 Empowering Malaysians
Five decades on, democracy as practised in Malaysia today is little more than a shade of its former glory. Pakatan Rakyat believes that Malaysians should no longer be denied their rights to a full and proper democracy. Hence, reforms to restore democracy to its rightful meaning will be undertaken immediately.
Also, Pakatan Rakyat is aware that despite being equal partners with Malaya during the formation of Malaysia nearly half a century ago, Sabah and Sarawak has not enjoyed the level of development and prosperity that rightfully belongs to them. With the additional income acquired through the 20 percent oil royalty reserved for those two states, Pakatan
Rakyat plans to implement various reforms to strengthen and dignify the people of Sabah and Sarawak.
Furthermore, Pakatan Rakyat also recognizes the crucial role that the youth play in realising a better and more democratic Malaysia. Various initiatives and reforms will be put in place to train, encourage and empower the youths to be drivers and movers of change.
________
1Extrapolated from 2008 data published in the New Economic Model, 2010 (pg 58). We assume 8% p.a. growth in average household incomes since then.
2New Economic Model, 2010 (pg 90).
3Malaysia Economic Monitor: Inclusive Growth. A report by the World Bank, Nov 2010.
4New Economic Model, 2010.(pg 57).
5In between, it rose to 47% in 2000 and 67% in 2006.
6Household debt in Malaysia – Is it Sustainable? Lim MahHui, Penang Economic Monthly, Aug 2011.
[Pakatan Rakyat Budget 2012 released by Datuk Seri Anwar Ibrahim on behalf of PR in Kuala Lumpur on 4th October 2011. Part 2 of 10]