By Aneesa Alphonsus
June 8, 2011 | Free Malaysia Today
PETALING JAYA: Twenty years ago, a book like Someone Had to Say It by Tunku Abdul Aziz would have been 'launched' very quietly or not all since his strong opinions about the ruling party were written without any apologies.
It would have been deemed seditious and defamatory. A book like this would be heard only in the grapevine . Purchasing such an elusive book would only be possible via various non-governmental organisations or from some other related gathering.
Today, you can walk into any good bookstore, and find it standing upright on the shelves. The times they have changed indeed, Tunku Abdul Aziz writes about what many other Malaysians are thinking but lack the avenue and perhaps writing skill in order to express it.
He describes Some Had To Say It as a book which, "… cover a wide range of topics; social, economic, political and ethical issues that I felt to be in need of ventilating in a responsible, open and direct manner.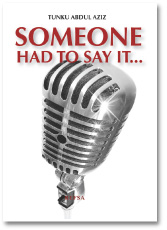 "The overwhelming majority of our people, of all age groups, having lived under an authoritarian, albeit benign, regime for close to three decades, unfortunately, do not even realise the extent to which their constitutional rights have been eroded. It was, I thought, about time they confronted these issues and reclaimed their rights as Malaysians, rights that have been systematically denied them."
Tunku Abdul Aziz, who is a regular contributor to MySinchew and Sin Chew Daily, makes advocacy against corruption both here and abroad his business. For some years, he served as vice chairman on the board of Transparency International as the press release states, "…at a time when Dr Mahathir, who was well known for his ambivalence towards corruption in public life, was the country's prime minister." He cheekily says, "Maybe my next book could be titled 'A Spin Doctor in the House," in reference to A Doctor In The House: The memoirs of Tun Dr Mahathir Mohamad.
It was this outspoken nature which later saw him being appointed Special Advisor to the UN Secretary General in 2006, during which time he established the UN Ethics Office in New York.
Tunku who is also a DAP party member says that where the book is concerned and whatever our respective views might be, we should remain constant and agree to disagree because we live in a very complex society, more so now that Malaysia is growing in leaps and bounds.
"People have this view that if you are a politician, you can't really be trusted. Sometimes I blush when telling people what I do," he says in jest, and then adds, "Politics isn't a profession, it's more of a trade. And many of us have the passport as it were and the potential, just like any other Malaysian to step forward and say what needs to be said with integrity and honesty. We just need to decide to do something about it."
This is where the book steps in. For a book that is heavy in subject matter, Someone Had To Say It is an easy read. There are 38 essays for you to choose from and each have the ability to enrage, enlighten and maybe illicit empathy. But whatever emotion it draws out of the reader, perhaps we can agree on one thing, that the language used in this book is fluid with lashings of the writer's cheeky candor laced throughout while addressing what can still be done to right the wrongs of this country.
Someone Had To Say It Retails at RM40.