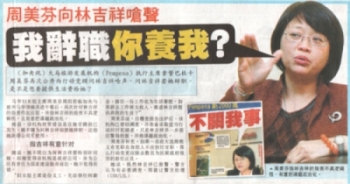 MCA Wanita chief and Pempena Executive Chairman, Datuk Paduka Chew Mei Fun publicly asked me on Thursday whether I will employ and "feed" her if she resigns from Pempena. (Sin Chew Daily, Guang Ming Daily)
My response – Chew should send me her job application with her cv and I will employ her at a salary befitting her real qualifications.
However, Malaysians are amazed at her crass audacity – which is typical of many MCA leaders – that Malaysians owe her a living, and the government must give her a job and "feed" her just because she lost to Tony Pua in the March general election in the Petaling Jaya Utara parliamentary constituency!
If this is the case, then Chew should have been truthful in the March general election campaign and should have owned up publicly that she would be "fed" by the Barisan Nasional government even if she loses in the parliamentary contest against Pua – that she was in an envious "cannot lose" situation, whatever the outcome of the election!
Be that as it may, Chew may be out of her job as Pempena Executive Chairman faster than she think, especially if the Star report "Pempena probe has Azalina fuming" (20.11.98) is to be believed, that the Tourism Minister Datuk Seri Azalina Othman is mulling over whether to shut down the subsidiary of the Tourism Ministry!
The report said Azalina was "irked" by the "nonchalant attitude" of those being questioned over the RM50 million Pempena Group of Companies scandals.
She said:
"I have been told the immediate standard response we have been getting is that it is the Government's money and 'why should we care' statements as if it is the Govern¬ment's obligation to invest with them.

"It is so disgusting when nobody cares. How can you not care when it comes to the people's money?"
Lashing out at the poor Pempena investments, Azalina said:
"Pempena should close down if it cannot invest properly. If it fails, it fails. Then we pick up the pieces and carry on."
What is most shocking is that such outrageous "nonchalant attitude" is fully inherited by the current Pempena executive chairman as illustrated by Chew's utter contempt for accountability, transparency and good governance when she:
• Dismissed questions about Pempena scandals, declaring that she would not answer "on things that happened before my time" as she just wanted to focus on revamping the company; and
• Spurned questions as to whether "heads will roll" and action taken against those responsible for the tens of millions of ringgit of Pempena losses because of fraud and criminal breach of trust although the internal audit report detailing the various Pempena scandals had been completed and been in her hands for over three months.
If this is the attitude of the Pempena executive chairman, then I agree that Pempena should be closed down, as we cannot have an executive chairman who have no clue as to what are her responsibilities to the Malaysian public and taxpayers who are paying her RM10,000 monthly salary! Clearly, she does not know who are the "boss" and who are "feeding" her!
The case for the closure of Pempena is strengthened after I read the disclosures by Datuk Kee Phaik Chin, the Pempena Chairman from 2004-2006, who is astounded by the Pempena losses, as she had left Pempena in very good hands,with RM50 million reserves, even salary increases and bonus for the Pempena staff!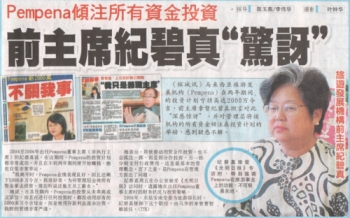 She wondered how Pempena could lose RM20 million in the two years she was no more in Pempena – a question which Chew and her immediate predecessor Datuk Chor Chee Heung have refused to answer!
In the circumstances, Azalina must personally answer these and other Pempena-related questions in Parliament next week when the Tourism Ministry come up for scrutiny in the 2009 Budget committee stage debate.
Let Azalina also tell Parliament next week whether she is going to close down Pempena or whether Chew is fit and competent to continue as Pempena Executive Chairman.
I met Azalina at the Senai Airport this morning and I want to remind her of my request for a copy of the internal audit report into the Pempena Group of Companies scandals, which was completed in August 2008 and the Final Report of the PricewaterhouseCooper's report on "High Level Business Review of Pempena Group of Companies".