Archive for August 2nd, 2007
I congratulate Tan Sri Bernard Dompok, UPKO President and Minister in the Prime Minister's Department, for his honesty, courage and conviction in speaking the truth today that Malaysia is not an Islamic state.
On the occasion of the nation's 50th Merdeka anniversary (but 44 years of the Malaysian Federation for Sabah and Sarawak), Bernard has made Sabahans and all Malaysians proud.
At the launch of 'The Merdeka Statement' by the Centre for Public Policy Studies in Kuala Lumpur, Bernard said the nation's founders did not have in mind an Islamic state when the Federation of Malaysia was formed in 1963.
He said: "I think my colleagues in the government will forgive me for saying that I will not agree that we are an Islamic state."
Bernard is right. That Malaysia is a secular state with Islam as the official religion and not an Islamic state was one of the fundamental principles of nation-building in the Malaysia Agreement 1963 for the establishment of Malaysia with Sabah, Sarawak and Singapore, which left the federation two years later in 1965.
What is most shocking is that for past six years, no Sabah or Sarawak leader, whether Minister or Deputy Minister, whether at the national or state level, had come forward to state such a simple historical truth.
Bernard must be commended for being the first Minister from Sabah and Sarawak with the political principle, conviction and integrity to speak up to defend and uphold the fundamental principle of nation-building in the establishment of Malaysia. The question is which next Minister or Deputy Minister, whether at national or state level, Sabah or Sarawak, will now emulate Bernard to speak and defend the truth. From PBS in Sabah or SUPP in Sarawak?
This crucial issue concerns not just Sabah and Sarawak but the whole Malaysian nation — for the fundamental principle that Malaysia is a secular state with Islam as the official religion and not an Islamic state was not only the crux of the Malaysia Agreement 1963 but also of the Merdeka social contract leading to the attainment of national independence 50 years ago. Read the rest of this entry »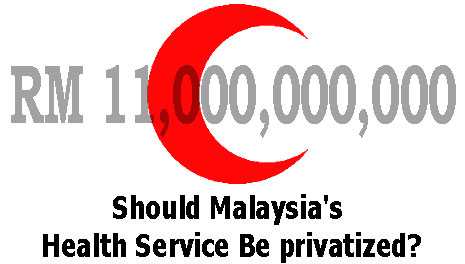 by YELVERTON
And so the Aussies have ventured to set right our stone-aged health care system to see if we can kill less people. Looks like Malaysians cannot do anything right for themselves these days. Certainly any proposal has to be better then anything our clueless Ministry of Health officials can come up with but unfortunately the Aussies have failed to emphasize on one main factor… who holds the money? And is the MOH, currently so inefficient that ambulances run out of petrol midway to an accident scene, willing to take their fingers off the pies of equipment purchases, bloated IT budgets and crumbling hospital buildings.
When Thatcher ruled and decided the NHS needs new directions she became hopelessly unpopular to the glee of Labour. But Blair didn't do a good job either. He stuffed down doctor's throats MMC's (Modernizing Medical Careers) without their consent not unlike Malaysia's notorious Private Healthcare, Facilities and Services Act immediately alienating doctors provoking them to march in mass protests in London and Glasgow in March this year. This was followed by the resignations of Professor Alan Crockard as national director of Modernizing Medical Careers, Alex Liakos as adviser to the MMC and Professor Shelley Heard as MMC National Clinical Advisor prompting the Health Secretary Patricia Hewitt to apologize both in public and parliament.
The BMA (British Medical Association) unlike our muted MMA (Malaysian Medical Association) rightly pointed out that apologies were not enough as the entire training system has been put into jeopardy as changes have clearly not been thought through, throwing the futures of doctors and consequently healthcare into disarray. Till this day if you walk into any NHS hospital you will find notices advising doctors not to cooperate in the MMC. This move has also seen British doctors flying off to Australia and New Zealand for a "better rounded training". Clearly Labour had forgotten the guile of Aneurin Bevan, the Guru who was instrumental in the successful initial implementation of the NHS. Read the rest of this entry »
The Prime Minister, Datuk Seri Abdullah Ahmad Badawi should present a White Paper giving a full report exonerating the Deputy Internal Security Minister, Datuk Seri Johari Baharum, the Inspector-General of Police Tan Sri Musa Hassan and former Anti-Corruption Agency (ACA) director-general Datuk Seri Zulkipli Mat Noor as the first step of the government's national integrity policy of "zero tolerance for corruption".
Although Abdullah expressed relief on Saturday that both Musa and Zulkipli had been cleared of corruption by the Attorney-General Tan Sri Abdul Gani Patail, he also made two remarks which were not in keeping with his pledge to lead a clean, incorruptible, open, accountable and transparent administration, viz:
That these corruption allegations should no longer be debated following the closure of investigations by the Attorney-General;
His retort when pressed for details of the investigation reports: "Don't ask me about the contents of the investigations. That is not my job."
As Prime Minister, Abdullah should realize that the final responsibility of a clean and incorruptible administration rests with him and not with the Attorney-General, and he has the duty and responsibility to satisfy himself about the integrity and incorruptibility of Musa and Zulkipli in view of the critically important posts they were entrusted with.
Gani has ordered the ACA to close their investigations into Musa and Zulkipli. Was this at Gani's own behest or was it on the directive of the Prime Minister, who would have been informed beforehand that the Attorney-General would be publicly clearing Musa and Zulkipli of corruption. Read the rest of this entry »