Story by Khairul Khalid | Kinibiz
DECEMBER 23, 2015 8:00AM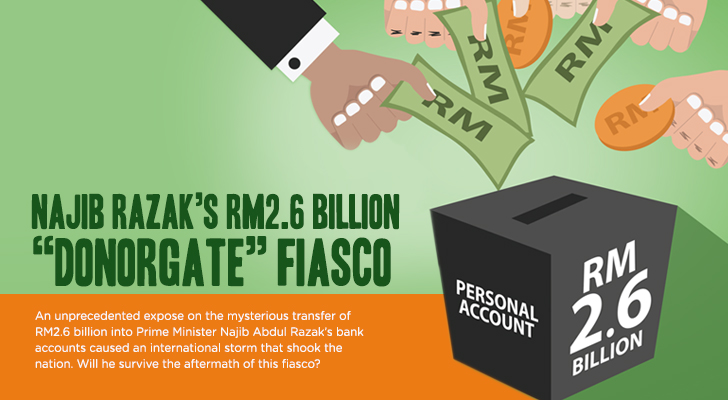 The political purge that followed the WSJ revelations stunned the public and sent shockwaves among Umno grassroots. Can Prime Minister Najib Abdul Razak survive the RM2.6 billion backlash?
________________________________________________________________________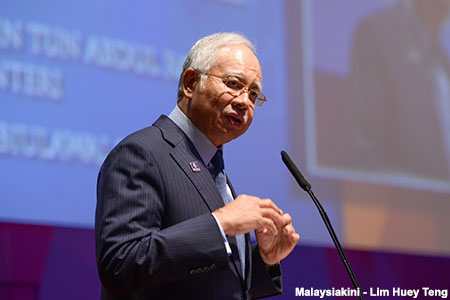 Just a few weeks after the sensational Wall Street Journal (WSJ) expose in July, alleging that RM2.6 billion was transferred directly into Prime Minister Najib Abdul Razak's bank accounts, major reshuffles in key government posts shocked the nation again.
The most prominent were the triple whammy dismissals of attorney-general Abdul Gani Patail, deputy prime minister Muhyiddin Yassin and federal minister Mohd Shafie Apdal.
Retribution in RM2.6 billion 'Donorgate'
Were these casualties political retribution in the RM2.6 billion "Donorgate" scandal linked to Najib? The public seemed to think so.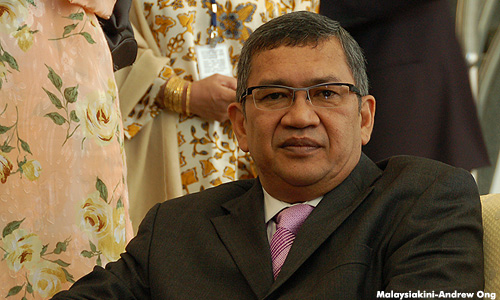 Attorney-general Abdul Gani Patail was suddenly removed in an announcement by the chief secretary to the government, Ali Hamsa. The official reason given by the government was Gani's health issues, but Gani himself seemed blindsided by his abrupt departure.
There were also rumours that just before he was dismissed, Gani was about to make an unthinkable move – filing formal charges against the prime minister for the RM2.6 billion transfer. Online portal Sarawak Report published alleged drafts of charge sheets against the prime minister for the RM2.6 billion transfer.
Charge sheet vs Najib?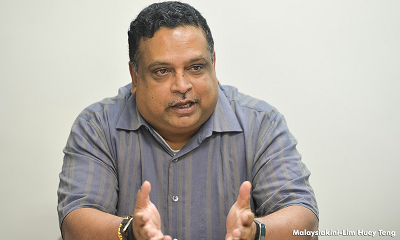 In November, Charles Suresh Morais (brother of slain senior deputy public prosecutor Kevin Anthony Morais) sensationally claimed that Kevin was working on the charge sheet before he was brutally murdered. These allegations have also been denied by the government.
Shortly after Gani's departure, deputy prime minister Muhyiddin Yassin was ousted and replaced by Ahmad Zahid Hamidi. Another prominent federal minister removed was Shafie Apdal. All were staunch critics of Najib's handling of the RM2.6 billion "donation" expose as well as the debt-ridden 1MDB.
Muhyiddin sacking problematic
The unceremonious dismissal of all three – Gani, Muhyiddin and Shafie – was even more surprising considering that they were all long-serving stalwarts of Najib's ruling party Umno.
Gani served under three prime ministers. His tenure dated to the time of former prime minister Mahathir Mohamad. Gani was also lead prosecutor in former deputy prime minister Anwar Ibrahim's first sodomy case and became attorney-general in 2002.
He was also appointed head of the task force investigating 1Malaysia Development Bhd (1MDB). As attorney-general, he had the sole authority to decide on prosecution in the country.
Others in the task force were governor of Bank Malaysia Zeti Akhtar Aziz, the inspector-general of police Abdul Khalid Abu Bakar, and the Malaysian Anti-Corruption Commission chief commissioner Abu Kassim Mohamad.
The sacking of Muhyiddin was arguably the most problematic politically for Najib. At the time of writing, despite being sacked from the number two post in the government, Muhyiddin is still deputy president of Umno. Najib, other than being prime minister, is also president of Umno.
There have been rumours of a move to oust Muhyiddin from all party posts to curtail his influence that has grown despite his sacking.
The Mahathir factor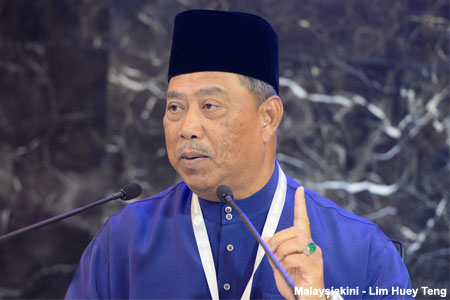 Other than being a staunch party loyalist, he has strong grassroots support in the southern state of Johor, a perennial Umno bastion. Muhyiddin's dismissal led to strong protests from several Umno divisions in the state. In November, 81 branch chiefs from eight Johor Umno divisions called for Najib's resignation.
Perhaps the common strand in all three axings was their perceived closeness to Mahathir, Najib's former mentor-turned-nemesis. The former PM has openly and repeatedly called for the ousting of Najib, citing the RM2.6 billion donation and 1MDB scandals.
The common perception is that these political purges by Najib were bold yet necessary. Najib was seen as consolidating his position in the government and reducing Mahathir's influence.
Will Najib survive?
The prime question now is: will Najib's position become increasingly untenable, forcing Umno to bring him down, or will he miraculously survive the aftermath of the RM2.6 billion scandal?
There were other sudden reshuffles that raised eyebrows, such as the change in heads in various departments of the Police Special Branch as well as the appointment into the government of four members of the parliamentary Public Accounts Committee investigation into 1MDB, including its chairman Nur Jazlan Mohamed who was appointed deputy home minister.
Although the opposition has applied constant pressure on Najib, they have not struck any decisive blows yet. There have been proposals of a vote of no-confidence against Najib, but that was quickly shot down by Parliament speaker Pandikar Amin Mulia.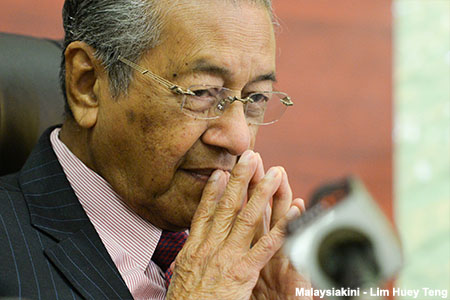 Even Mahathir joined in the chorus, claiming that a vote of no-confidence is a democratic right, quoting Article 43(4) of the Federal Constitution:
"If the prime minister ceases to command the confidence of the majority of the members of the House of Representatives, then, unless at his request the Yang di-Pertuan Agong dissolves Parliament, the prime minister shall tender the resignation of the Cabinet."
Scandal won't fade away
In November, the opposition tried to send a signal of no-confidence against Najib by voting down Budget 2016 but failed. The Budget was passed at policy stage with 128 votes in favour and 74 against. This month, it passed the committee stage.
There have been other suggestions. Some have proposed cutting a behind-the-scene deal with Najib to facilitate a smooth change of power and leadership. Some have even suggested ensuring safe passage for the prime minister overseas. So far, these have not materialised.
Najib may have time on his side. He does not have to call for a general election before Aug 24, 2018. Regardless, the RM2.6 billion scandal will not likely fade away easily. Based on the seismic events of 2015, more fireworks are expected for the prime minister next year.