Yahoo Travel Explorers
August 10, 2015
By David Hogan/Malaysia Asia
In recent years, street art in Malaysia has picked up quite a bit, and you'll now find murals and paintings by both local and international artists.
While this form of art has been alive and well in many other areas of the world for decades, the movement in Malaysia really got rolling in 2012, when Ernest Zacharevic created six murals for Penang's George Town Culture festival. The paintings were so popular that the BBC even called him the Banksy of Malaysia. Today, there are many cities around the country following in Penang's footsteps, calling on locals of all ages to add new life to their walls. For visitors, that means it's easy to find these open-air museums; since they are usually located in high tourist areas, you barely have to look around. But you do need to know which towns and cities to start in. Here are some of my favorites:
Penang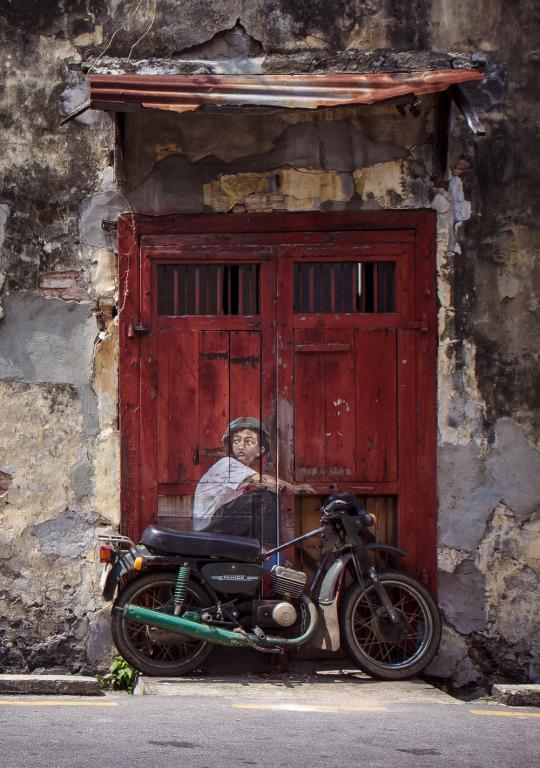 Penang artist Ernest Zacharevic has been called the Banksy of Malaysia. (Photo: Ernest Zacharevic)

The most famous murals in Malaysia are by Zacharevic, a Lithuanian-born artist based in Penang. In 2012, he was commissioned to paint six pieces as part of the George Town Culture Festival here, and he chose to depict scenes of everyday Malaysian life using local people as the models.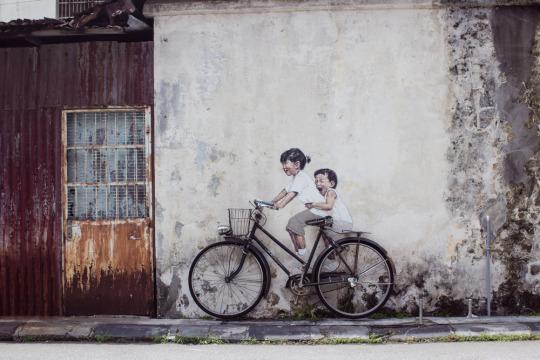 Zacharevic's Children on Bicycle uses a common technique of his: combinin found objects with painted portraits. (Photo: Ernest Zacharevic)
Two extremely popular pieces from this series have been featured the world over: Children on Bicycle and Boy on Motorcycle. In both, he uses a clever combination of real-life objects and painted images that allow admirers to interact with the artworks.
Kuching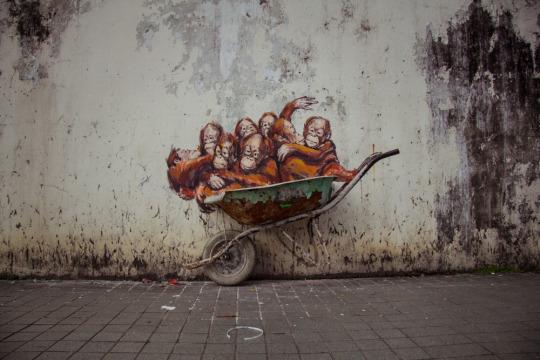 Tourists have been known to take selfies "wheeling" the orangutans in this Zacharevic mural. (Photo: Ernest Zacharevic)
Kuching, the capital of the state of Sarawak on the island of Borneo, is one of the new players in the street art scene, also thanks to Zacharevic. In early 2014, he was hired to contribute some pieces, and his inspirations were the local rainforest and orangutan population. Explore the Kuching waterfront to find apes in wheelbarrows, apes on posts, and apes sipping kopi O peng from a bag (iced black coffee with sugar).
Ipoh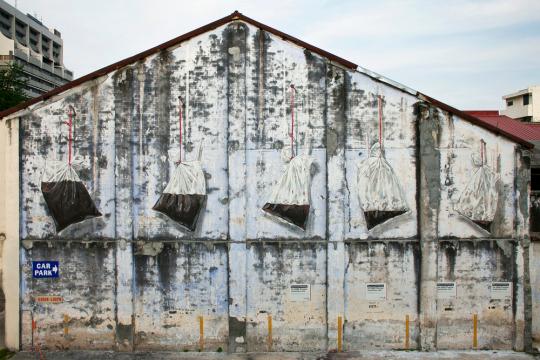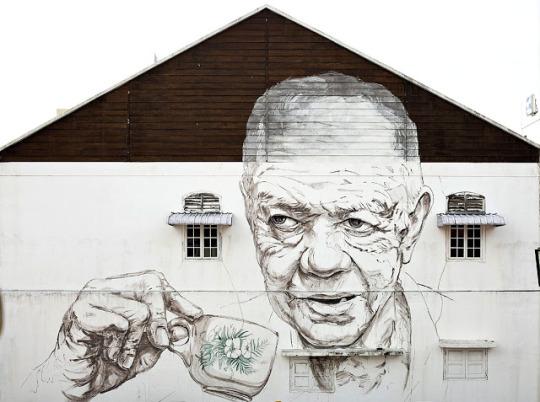 Ipoh-based OldTown White Coffee hired Malaysia's most famous street artist to promote its kopi. (Photos: OldTown White Coffee)
Coffee was the theme for another Zacharevic series of 2014, this one in Ipoh in the state of Perak. "Ever since I first visited Ipoh, Old Town I've been touched by how cosy and intimate the town is," Zacharevic said. "Its architecture, culture, food and people have continued to captivate and inspire my heart and soul. I've wanted to come back to Ipoh, Old Town, take my time, soak in its rich culture and heritage and perhaps leave my mark here." He got that chance when OldTown White Coffee approached him for this series of seven pieces painted throughout the neighborhood in 2014.
Sibu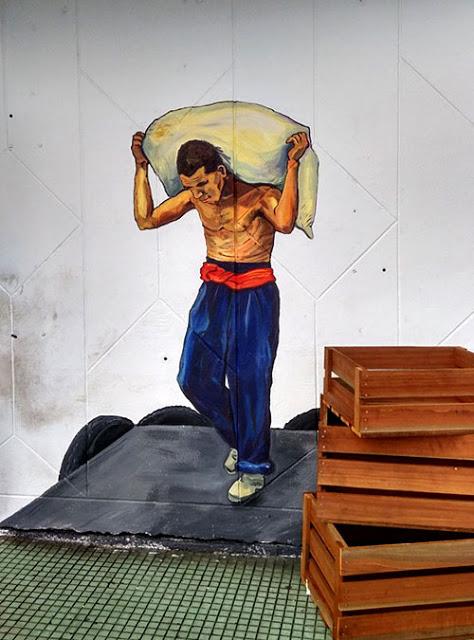 The first street painting in Sibu depicts a wharf coolie, a nod to the city's history as a commercial port during the 1950s and 1960s. (Photo: ccwen08.blogspot)
In preparation for its big Visit Sibu Year tourism campaign of 2017, this Sarawak port has also jumped on the street art bandwagon. Organized by the Sibu Municipal Council, the initiative is seen as a way to brighten up street corners throughout the town and to pay tribute to Sibu's past while showcasing contemporary local artists. The first painting to go up (completed in May of this year) depicts a worker at Khoo Peng Loong Wharf, which served as a gateway for goods coming into Sarawak in the 1950s and '60; today the wharf is quiet, and an infrastructure of roads replaces the riverways.
Johor Bahru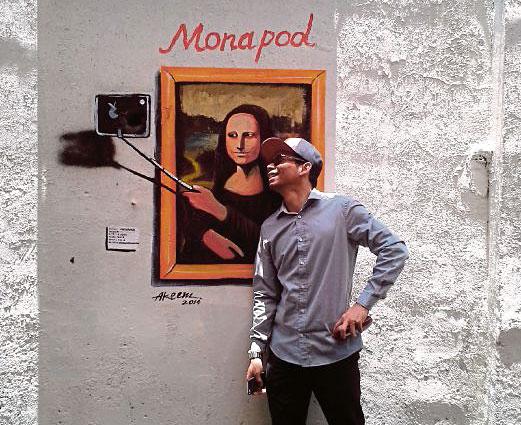 Akeem poses with his interesting MonaPod piece at Pasar Karat (Photo: David Hogan)
One of the iconic street art paintings here is the MonaPod by Akeem. This quirky version of Leonardo da Vinci's Mona Lisa has the famously smirking model posing with a selfie stick.
Petaling Jaya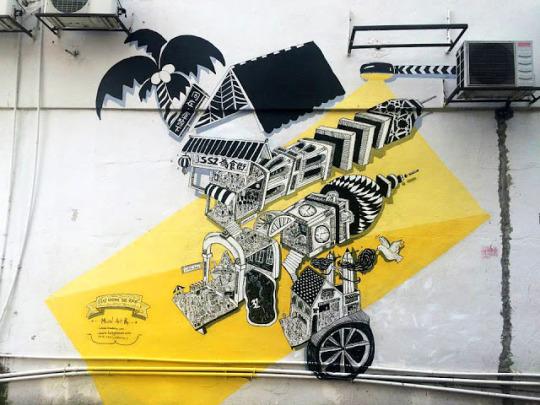 One of the winning murals in Petaling Jaya's street art competition. (Photo: Yeo Bee Yin/Facebook)
The latest street in Petaling Jaya (or PJ) is found at the main SS2 area, thanks to the SS2 'Bestnya Malaysiaku' (Best of Malaysia) Wall Art Competition held in November 2014. The competition offered up 22 walls for decoration, and the winning murals have become a permanent attraction for both locals and tourists. Browse them on your way to or from a meal — SS2 is well known food area, there is even an all-you-can-eat durian center here.
Shah Alam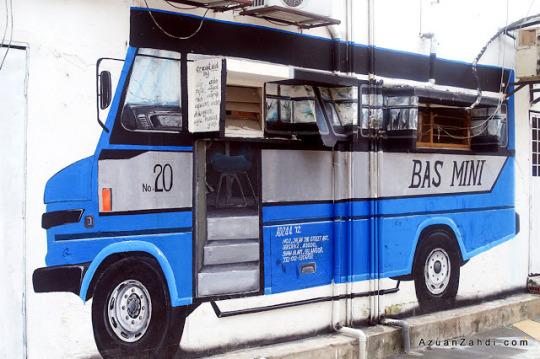 A classic Malaysian mini bus is depicted in one of many murals decorating Laman Seni 7 Shah Alam. (Photo: Azuan Zahdi)
Shah Alam, located about an hour's drive from Kuala Lumpur, has also participated in the street art movement. Here, the local council created an area especially for artists to show off their skills: Laman Seni 7 in Section 2.
Turning backstreets into walk-through art galleries was a big hit with the locals and you can now discover 37 paintings throughout the area — in fact, the project was so successful that the council is expanding it with another section this year.
Kuala Lumpur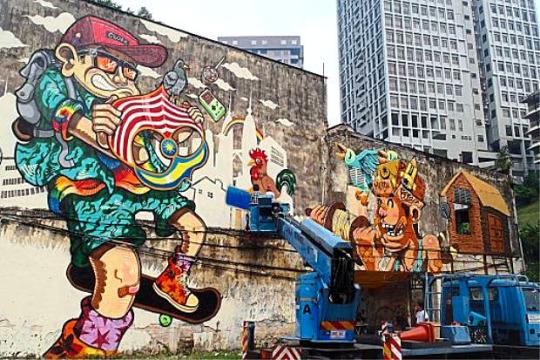 This mural was created as part of the 2014 #Tanahairku: Street Art Project, which celebrate patriotism and unity. (Photo: TheStar)
It is no wonder that Kuala Lumpur finally saw the light and produced its own street art paintings, especially with all the hype that Penang and other towns are getting.
You'll see the most murals in the Chinatown area or Petaling Street, and there are some around the Lebuh Ampang area as well. However, if you look towards the Klang River just nearby, you will see a lot of graffiti along the river walls. Maybe those taggers are tomorrow's artists.