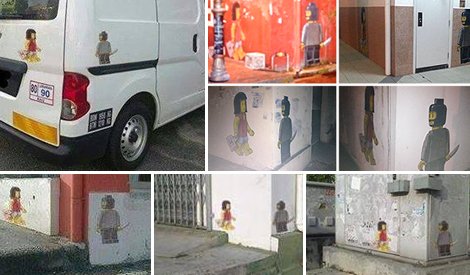 Malaysiakini | 2:00PM Nov 16, 2013
The Johor Bahru City Council may have hastily removed the controversial mural depicting a lady about to be mugged, but it appears to have spawned at least 10 reincarnations of the increasingly popular artwork.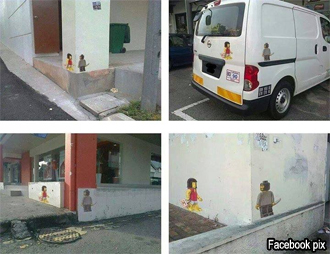 According to an anonymous local who spoke to Malaysiakini today, the lego character with the channel bag and the mugger around the corner have shown up on not just the city's walls, but also on vans and even T-shirts.
He reported that people have put up stickers of the mural in Sutra Mall, Perling, Taman Molek and Bukit Indah among others.
Netizens have also posted their photos of the clones on Facebook, and one is even selling the T-shirts online.

The T-shirts come in a pair, one with the victim and the other with the mugger, both carrying the original street artist Lithuanian-born Ernest Zacharevic's comment, "Art does not damage a city's image" and "Crime does" respectively.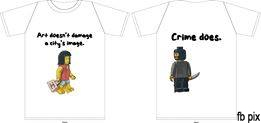 Facebookers cheered the clones, saying it is a great idea and some want to have the stickers on their walls and cars too.
"Where can I buy them (the stickers)?" asked one netizen.
Another predicts that the cartoons will soon appear on cups, bags and bowls. "This is JB culture," laughed the poster.
'More murals needed'
The photos of the clones were also posted on the Facebook of DAP Gelang Patah, its veteran leader Lim Kit Siang's constituency, where one netizen suggested these stickers be put up all over the country where robbers have struck.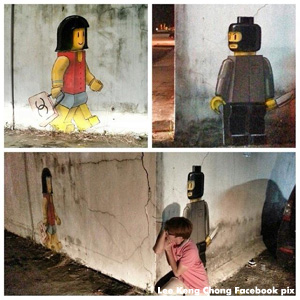 "I'm sure there are tens of thousands all over Malaysia," wrote the poster Andrew Ng.
Malaysia's dire crime situation has been a major concern over the past year, with the government flip flopping from outright denial when responding to critics, to admission when pushing through the draconian Prevention of Crime Act amendments.
Zacharevic's mural was meant to highlight the situation, but city council of the southern capital notorious for crime, was not amused.
Council workers promptly cleaned up the mural this week, after the state government complained the mural "tarnished" the state's image.
Zacharevic however claimed the inspiration for the two lego characters came from JB residents themselves, whom he said had constantly reminded him to be wary of criminals while in the city.